The Pulled Pork Sandwiches are an easy slow cooker recipe perfect for serving a crowd. Tender slow-cooked pork shoulder is shredded, piled on soft buns, and topped with BBQ sauce and slaw. Serve them with your favorite sides like potato salad, chips, fries, or pasta salad.
A while back, I shared my favorite easy pulled pork recipe, and one of my favorite ways to use that tender, juicy meat is in sandwiches. So today, it's all about easy pulled pork sandwiches dripping with BBQ sauce and topped with slaw. The savory seasoned pork goes perfectly with the tangy-sweet sauce and creamy cold slaw. It's a flavor/texture combo I am happy to have any time of year.
It's especially great during the summer if you're hosting a crowd – you can make the pulled pork ahead, keep it in the fridge, and then warm it up when it's time to make sandwiches. Just add the BBQ sauce, slaw, and your favorite sides. Summer fun for all!
Ingredients
Pulled pork – My slow cooker pulled pork is super easy. Just season the pork shoulder and cook it in the slow cooker for several hours until it's falling apart tender.
Hamburger buns – Any kind will do, but I love buttery brioche hamburger buns.
Coleslaw – I like to keep it simple and pick up a container of prepared slaw at the store.
BBQ sauce – Use your favorite brand. I love Stubb's Original BBQ sauce, but any kind of tangy-sweet sauce will work. If you like some spice, pick one with a little heat.
Recipe Steps
Make the pulled pork: You can do this a day ahead! Just season the boneless pork shoulder, pop it in the crock pot, and cook it for several hours. Shred the meat and store it in the refrigerator until you're ready to warm it up and serve it.
Assemble the sandwiches: If you're feeling extra, toast the hamburger buns first. Pile the shredded pork on the bun, add a few tablespoons of BBQ sauce, and finish it with a few tablespoons of coleslaw.
Recipe Tips
I use a 3-pound picnic roast for this recipe which makes enough for 8 sandwiches plus a little leftover. You can use a larger pork shoulder if you want to double the recipe.
You can skip the slaw and top the BBQ pork with slices of cheese instead. Bonus points if you melt them, too.
These pork sandwiches are great with potato salad, garlic fries, potato chips, or orzo salad on the side!
If you don't want to use all of the pork to make sandwiches, save some to make some pork enchiladas.
Pulled pork sandwiches are always a hit – I hope you give this recipe a try soon!
Happy sandwich-making,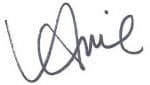 More Sandwich Recipes
📣 Do you love this recipe? I would love to know! Leave a comment below the recipe, along with your recipe star rating.
Print
The nutrition is an estimate only. It was calculated using Nutrifox, an online nutrition calculator.
Recipe, photos, and post updated from the archives. First published in July 2015.