Got a craving for takeout? Here's a round-up of 17 takeout-style recipes that are sure to cure your craving!
Homemade Takeout-Style Recipes
More and more I like to make my own takeout-style recipes at home instead of ordering it in, which is often an expensive and not always a healthy thing to do. So, here are 17 different takeout-style recipes to try when a takeout craving hits. There's a little bit of everything – some classic favorites and some not-so-authentic-yet-totally-satisfying options and all of them are totally doable in your own kitchen. Whether it's crispy eggrolls, savory beef and broccoli, or a bowl of hot and sour soup there are so many great ones to choose from. Click on the recipe title or photos to get more details about the recipes – I hope you find some new ones to try!
30-MINUTE BEEF AND BROCCOLI – Girl Gone Gourmet | A lot of take-out favorites are really quick to make and this beef and broccoli is no exception. Prep all of the ingredients first and from there they just need a few minutes in a hot pan, which means dinner is ready to go sooner than it takes to get it delivered.
CHINESE EGG ROLLS – Jessica Gavin – Culinary Scientist | One problem with ordering take-out eggrolls: when they are packaged hot in a take-out container they end up steaming which means you end up with not-so-crispy eggrolls when you get home. Jessica shows you how to make your own from scratch and her tips and tricks will ensure you end up with a batch of eggrolls that are hot and crispy, just the way they should be. Plus, they're freezer-friendly, so you can make a big batch to have on hand anytime an eggroll craving hits.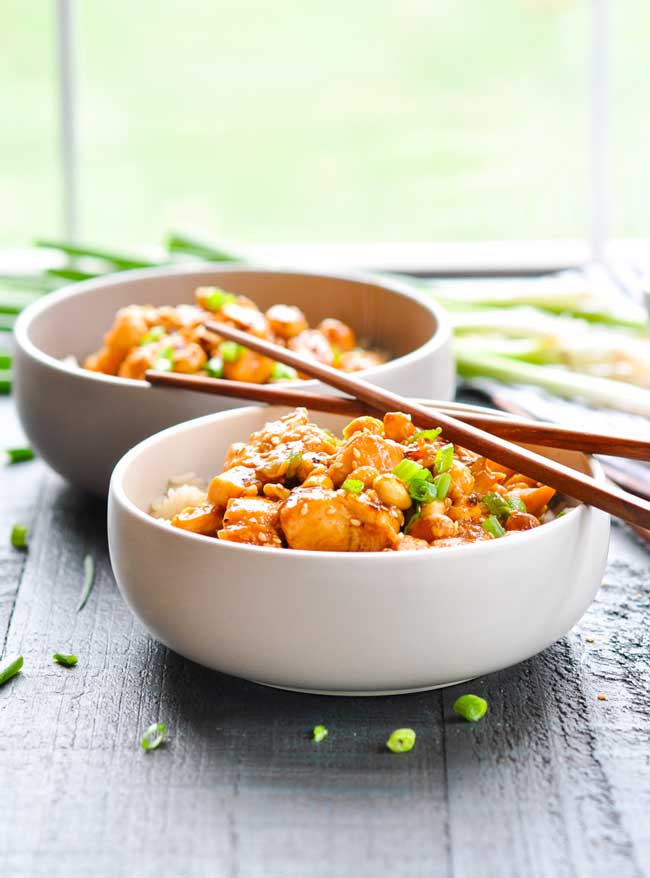 DUMP AND BAKE GENERAL TSO CHICKEN – The Seasoned Mom | It's all in the name with this general tso chicken because there are only ten minutes of prep work and all of the ingredients bake together in the oven. Not to mention this takeout-style recipes is healthier than what you might get at your favorite takeout place without sacrificing all the great flavor.
CHINESE EGG DROP SOUP – Omnivore's Cookbook | This is another super easy take-out favorite that takes about 15 minutes to make. Maggie grew up eating homemade egg drop soup and shares all of her best tips so you can make your own.
HOISIN CHICKEN LETTUCE WRAPS – Chef Savvy | I love lettuce wraps when the weather's hot and these savory chicken wraps look like an easy way to get a take-out fix on a weeknight. Marinate the chicken all day and when it's time for dinner you only need about 15 minutes to pull it all together.
10-MINUTE SIMPLE EGG FRIED RICE – Homemade Hooplah | Are you team plain rice or fried rice? I'm a fried rice girl all the way and I love this easy 10-minute recipe.
EASY SESAME NOODLES FOR ONE – Girl Gone Gourmet | While totally inauthentic, these sesame noodles are what I make when I get a sudden-onset take-out craving. It calls for mostly pantry ingredients and it takes all of 15 minutes to make.
SHEET PAN CASHEW CHICKEN – The Recipe Critic | I love a great sheet pan dinner and this cashew chicken not only an easy way to satisfy a craving but is also loaded with veggies. All of it cooks together on one sheet pan so just add some rice on the side to make it dinner.
POT STICKERS – Little Spice Jar | Like the eggrolls, these potstickers are freezer friendly and the recipe makes a big batch. Marzia walks you through the whole process so if you have a serious potsticker addiction like I do, you'll be able to make them yourself. Feed the addiction, I say!
CHINESE HOT AND SOUR SOUP WITH RAMEN – My Food Story | This comforting soup is basically a cultural mash-up inspired by Indian, Chinese, and Japanese dishes all roll-up into one spicy bowl of soup loaded with lots of noodles.
ORANGE CHICKEN – Girl Gone Gourmet | I'm a sucker for a certain fast food restaurant known for its orange chicken, so this is what I make when I get a craving. It's lighter on the sugar and oil but has that citrusy orange flavor that I love so much.
SKINNY SLOW COOKER KUNG PAO CHICKEN – The Recipe Critic | And if you want lighter take-out-style dishes this skinny kung pao chicken is the answer. Make it in your slow cooker or check out the stovetop instructions if that's more your style. Either way, this is a dinner you'll want to try.
LO MEIN – Pinch of Yum | A big bowl of tangled noodles with veggies and a savory sauce. I'm sold!
30 MINUTE GINGER BEEF NOODLES – Girl Gone Gourmet | More noodles because there's never enough, right? These quick and easy ginger beef noodles are ready to go in about 30 minutes – no take-out menu or Styrofoam containers required!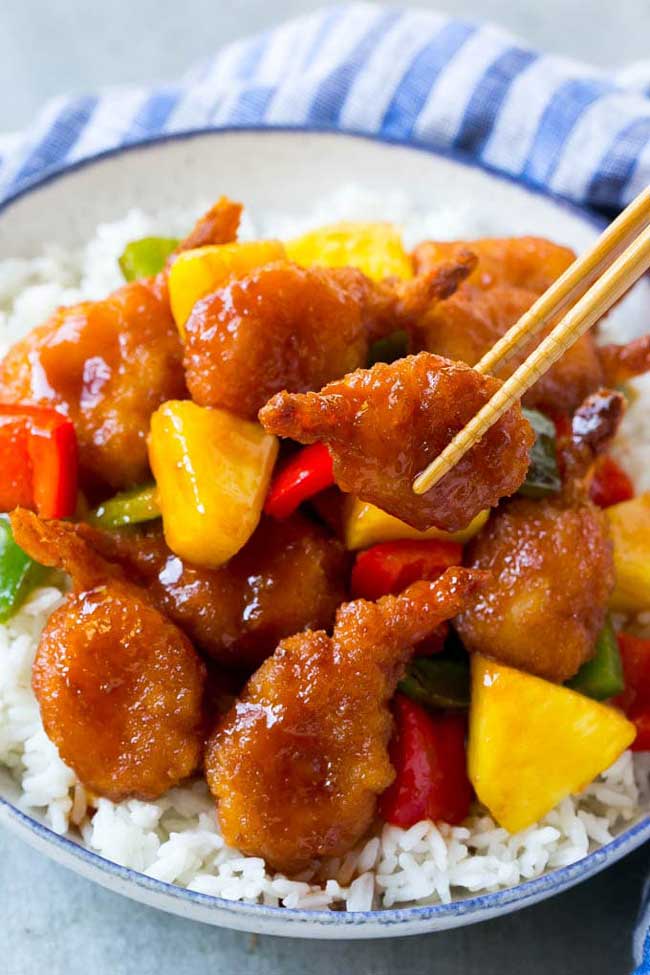 SWEET AND SOUR SHRIMP – Dinner at the Zoo | No breading and frying required – Sarah shows you a smart short-cut so you get crispy shrimp coated in a tangy sweet and sour sauce.
CRAB RANGOON – Rasa Malaysia | Crispy wonton packets filled with cream cheese and crab. These crab rangoons look so addicting you might want to make a double batch 🙂
30-MINUTE SESAME BEEF BOWLS – Girl Gone Gourmet | Quick, easy, and satisfying these sesame beef bowls are totally inauthentic but will satisfy a takeout craving. Serve the savory beef and veggies with rice or noodles and dinner is ready to go in about 30 minutes.