Got a craving for takeout? Here's a round-up of 17 takeout-style recipes that are sure to cure your craving! There's a little bit of everything – some classic favorites and some not-so-authentic-yet-totally-satisfying options and all of them are totally doable in your own kitchen. Whether it's crispy eggrolls, savory beef and broccoli, or a bowl of egg drop soup, there are so many great ones to choose from.
I hope you found some new recipes to try!
Happy cooking,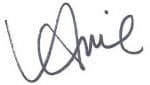 More Recipe Collections
💌 Sign up for the Girl Gone Gourmet Newsletter and get recipes delivered straight to your inbox!