I'm the first to admit that I'm sometimes at a loss at what to use my slow cooker for. I tend to get stuck in ruts with it making the same recipes over and over again, so seeing as it's mid-winter and cozy dinners are a high priority I searched around for some creative winter slow cooker recipes. If you're looking to use your slow cooker more this winter this round-up has 18 different ways to help you put it to good (and delicious!) use. I hope you find a few new recipes to try!
Slow Cooker Recipes
Click on the recipe titles or photos to get more details about all these winter slow cooker recipes!
CHICKEN ENCHILADAS WITH SLOW COOKER SALSA VERDE – Girl Gone Gourmet | These easy enchiladas start in the slow cooker – the chicken and all of the ingredients for the salsa verde slow cook together until the chicken is falling apart tender. From there you just assemble and bake!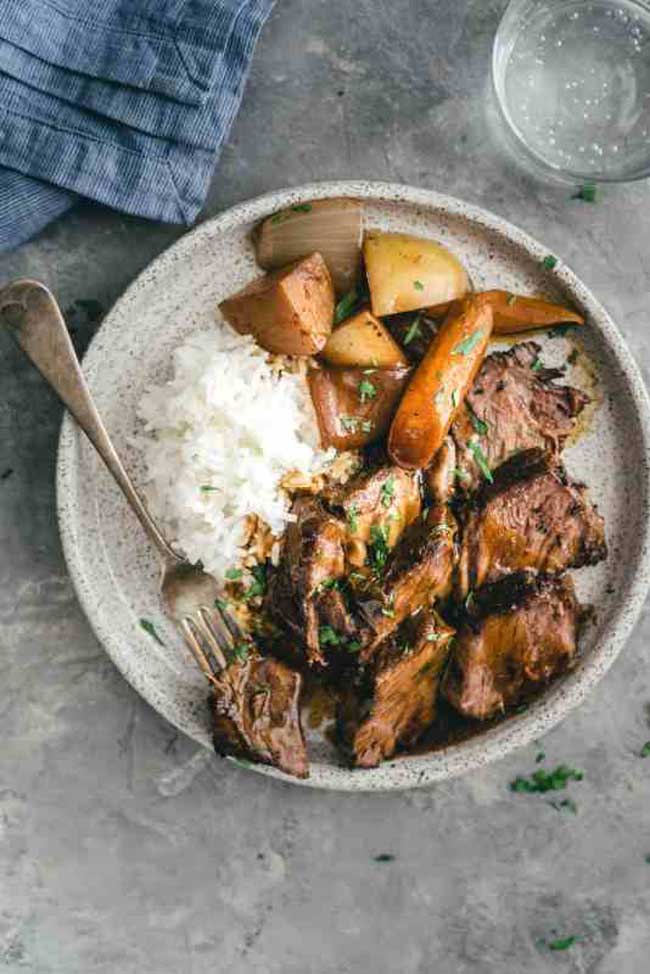 ASIAN-STYLE POT ROAST – Meal Prep on Fleek | Pot roast is a classic winter comfort food dish and I love the twist on the seasonings for this slow cooker version. The beef simmers in beef stock, soy sauce, and five-spice seasoning along with carrots and potatoes for an easy hands-off dinner.
BISTRO CHICKEN THIGHS – Family Food on the Table | Flavorful chicken thighs slow cooked with tomatoes, wine, onion, garlic, and thyme will turn your kitchen into a cozy French bistro. Serve the chicken with mashed potatoes on the side for a comforting cold-weather dinner.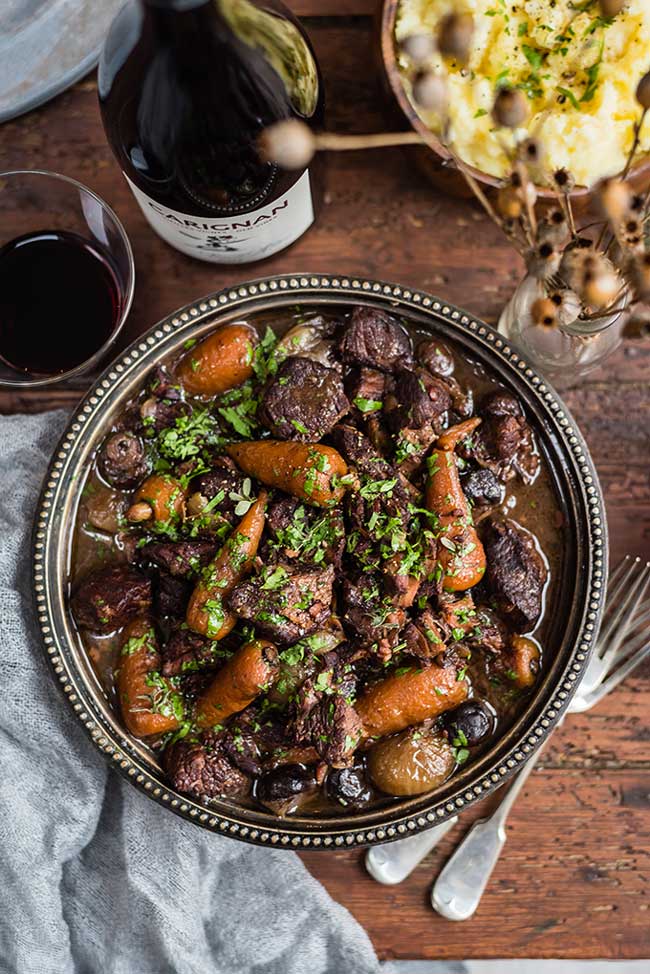 SLOW COOKER BEEF BOURGUIGNON – Super Golden Bakes | And more from France! Beef bourguignon is my favorite stew, but I've only made it the old-fashioned way (aka the 2-days of cooking!). I love this slow cooker version – there are a few steps, but way less than the classic way of making it, and after it simmers for eight hours in the slow cooker you won't even know the difference.
BBQ PORK RIBS – The Rising Spoon | You don't need a grill or a smoker or even an oven to make great ribs. Elaina shows you how to use your slow cooker to get tender falling-off-the-bone pork ribs dripping in a delicious BBQ sauce. I'm thinking these might be the perfect game-day eats.
SLOW COOKER PHO – The View From Great Island | Pho is mainly about two things: the broth and the toppings and Susan, as usual, has nailed it with her slow cooker version. The broth cooks for hours on its own so when it's done you have a deeply flavored savory base for the soup. This is definitely a must-try!
SHORT RIB TACOS WITH RADICCHIO APPLE SLAW – Girl Gone Gourmet | I like to call these winter tacos because they're a rich and stick-to-your-ribs dinner with all sorts of wintry ingredients. Tender shredded short ribs are topped with a fresh radicchio and apple slaw and a sprinkling a blue cheese crumbles. It's a delicious way to switch up Taco Tuesday.
7-INGREDIENT SLOW COOKER JERK CHICKEN – Recipes From a Pantry | 7 ingredients and a slow cooker is code for "easy dinner". Juicy chicken thighs simmer in fresh orange juice, jerk seasoning, and fresh herbs for a dinner so simple you'll want to add it to your weekly rotation.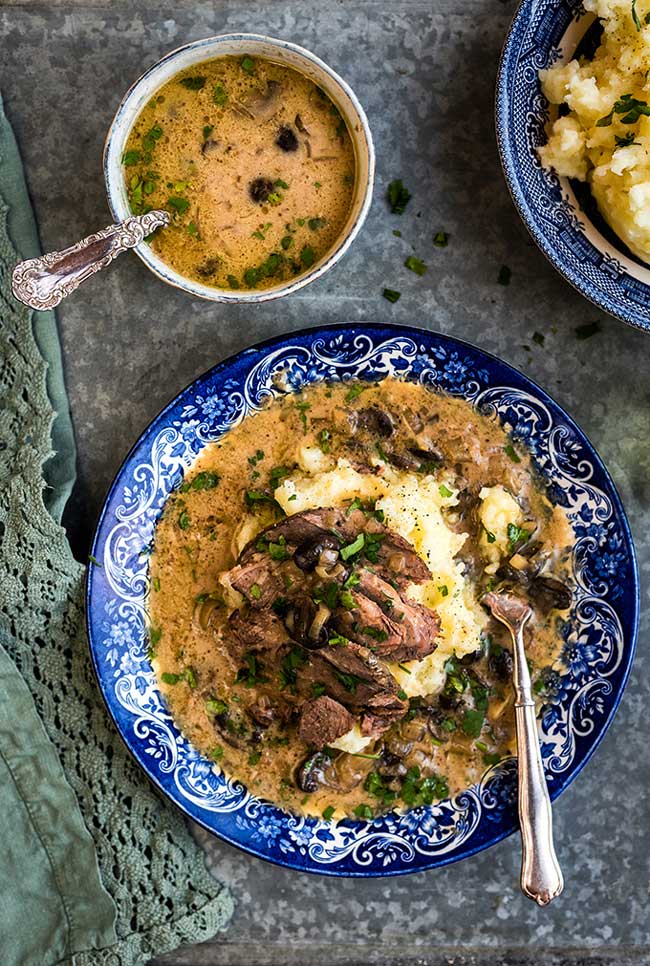 BEEF BRISKET WITH MUSHROOM GRAVY – Super Golden Bakes | How would you like to serve yourself that plate of brisket and potatoes on a cold night? And that mushroom gravy looks so delicious!
BEEF RENDANG CURRY – Healthy World Cuisine | This Indonesia dish has so many warming spices like cinnamon, cloves, cardamom, anise and is brightened with fresh lime and lemongrass. The beef cooks in the slow cooker and then the juices are reduced with some coconut milk. It looks like you might have worked all day, but the slow cooker does most of the work for you.
MEATBALL SOUP – An Italian In My Kitchen | Homemade mini meatballs simmered with veggies all day and then ladled into bowls. Sounds like a soup I'd be happy to have any night of the week -especially with some crusty bread on the side to soak up all the broth.
MEXICAN LASAGNA – Isabel Eats | No rolling necessary! All the ingredients for this Mexican Lasagna are layered in a slow cooker. Use your favorite store-bought enchilada sauce or give Isabel's homemade one a try. Either way, this is a slow cooker must-try.
SHREDDED BEEF SANDWICHES – Girl Gone Gourmet | The prep for these sandwiches is so easy – the chuck roast, coated in a few seasonings, goes right in the slow cooker – no browning required! – along with some veggies. It cooks until it's falling about tender – from there pile it on some hoagie rolls and top with cheese and fresh veggies.
EASY CROCK POT PORK CHOPS AND APPLES – Grits and Pinecones | Apples and pork chops are a classic combo and this looks like a great way to enjoy them together!
BEEF RAGU – Meal Prep on Fleek | Are you a make-ahead meal prepper? How about a big batch of beef ragu that you can make ahead in the slow cooker for easy meals during the week? Sounds good to me!
THAI-STYLE CHICKEN NOODLE SOUP – No Spoon Necessary | Chicken noodle soup meets Thai chicken curry, which means this soup is packed with flavor and the perfect way to warm up on a cold winter's day.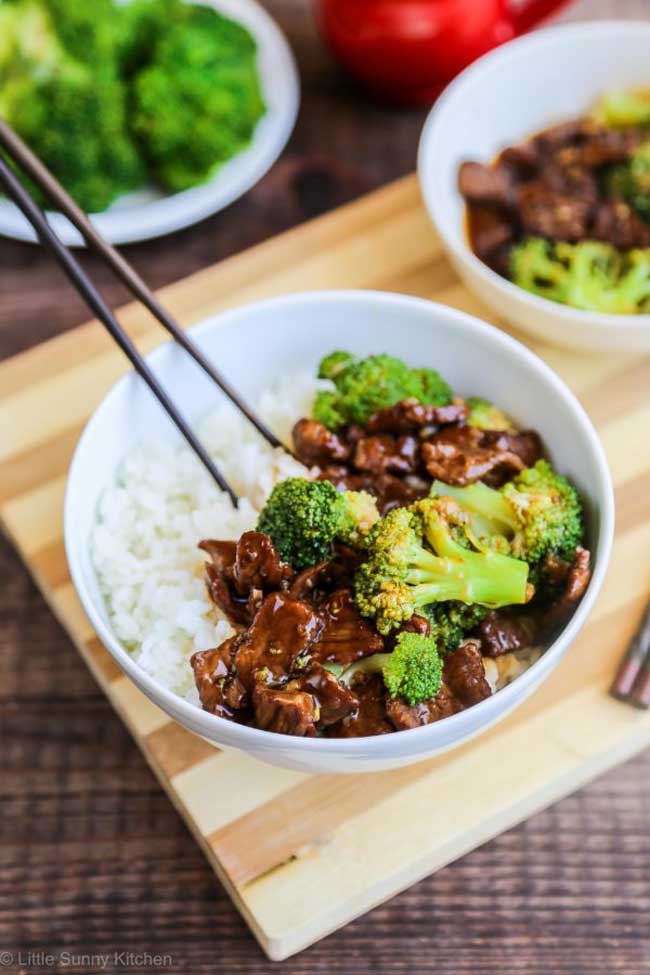 BEEF AND BROCCOLI – Little Sunny Kitchen | I love a great take-out / fake-out recipe and this beef and broccoli is a 7-ingredient-low-prep dinner wonder that cooks all day in the slow cooker – no take-out menus required!
CHAR SIU PORK RIBS – Krumpli | I can always count on Brian for creative and delicious recipes. These short ribs look a lot more complicated than they really are – it's a simple as mixing up a Cantonese-inspired sauce that the ribs simmer all day until they're just falling off the bone. Perfect for dinner or as an appetizer for get-togethers.