Steak Caesar Salad: A delicious main dish salad with tender steak, creamy Caesar salad dressing, and homemade ciabatta croutons. It's what it sounds like – a hearty, filling salad that is (bonus!) ready in about 30ish minutes.
There's chicken Caesar salad, but have you tried Steak Caesar salad? It's a fancy-ish, dressed-up version of that Caesar classic but just as easy to make.
And I prefer the steak version to the chicken one. The tender beef pairs well with the garlicky, creamy Caesar dressing, and the whole thing is ready in about 30 minutes. Like my steak carbonara, this steak Caesar salad is a quick and easy way to elevate a weeknight dinner.
💌 Sign up for the Girl Gone Gourmet Newsletter and get recipes delivered straight to your inbox!
This recipe has three parts: the steak, the salad, and the homemade croutons, but you can use a few shortcuts to make it even easier. You know me, I love a great shortcut so if you think this looks a little involved – please keep scrolling; I see you and will help make it easier.
Ingredients
Steak: For this salad, you have a few choices, steak-wise. Any quick-cooking tender cut will work great. I've used sirloin steaks and ribeye steaks and love them both. I season them with Montreal steak seasoning.
Croutons: Homemade croutons are so easy. Just take some ciabatta, cut it into bite-sized pieces, and toss the cubes in olive oil and Italian seasoning. Toast them in the oven until they're golden and crispy.
Caesar salad: Romaine lettuce, freshly shredded Parmesan cheese, a little chopped parsley, and, of course, a creamy Caesar dressing.
Substitutions and Shortcuts
Steak: If you're not a beef fan, you can easily change this into a chicken Caesar salad. Cook some boneless, skinless chicken breasts (don't skip the Montreal steak seasoning) and slice them up.
Croutons: If you want to skip the homemade croutons, use your favorite store brand. This will save you about five minutes or so in prep time.
Lettuce: I like to use Romaine hearts which are the inner leaves of a head of romaine lettuce. I cut them into thirds lengthwise and then slice crosswise to get short pieces. Not into chopping? Hello, bagged romaine lettuce – you are always a nice shortcut.
Dressing: If you've been following along, you already know I have an easy Caesar salad dressing that takes 10 minutes to make. But sometimes there's not an extra ten minutes, so use a good-quality bottled dressing. Look for one in the refrigerated section near the produce – I'd stay away from the shelf-stable dressings.
A while back, I shared a Mexican Caesar salad with a spicy Caesar dressing – that recipe would be great with steak, too, if you want to try a variation.
How to Make Caesar Salad with Steak
Prep the steak: I like to season the steaks first and leave them at room temperature to warm up. Cold steaks don't cook as evenly. While they sit, you can prep the croutons.
Toast the Croutons: Coat the bread cubes in olive oil and Italian seasoning. Spread them on a sheet pan and toast them at 375°F for about 10 minutes. Set them aside while you cook the steak.
Cook the steak: You can cook the steaks on the stove or grill them. The cooking time will vary depending on how thick your steaks are, so use a thermometer to measure the internal temperature. I like to pull mine off once they hit 135 to 140°F. They will continue to cook as they rest. If you like yours more well done, let them cook a little longer.
Assemble the salad: While the steaks rest, make the salad. I like to pour the dressing into the bottom of a large bowl – pile on the lettuce, cheese, parsley, and croutons. Toss the salad until the dressing is evenly coating everything. Slice the steak against the grain into bite-size pieces and add it to the salad. You can pile it on top and serve it that way or toss the salad again to mix the steak in.
Instead of tossing the salad, you can pile the lettuce on a large platter and top it with the steak and other ingredients with a bowl of dressing on the side so everyone can help themselves.
What to Serve with Steak and Caesar Salad
This recipe makes a fairly large salad – enough for four people if you add something on the side. It pairs great with tomato soup, mushroom soup, or cauliflower soup. You can also add some garlic toast to go with it.
If you serve it all on its own, it's enough for two hungry people with a little leftover. Leftover salad isn't always the greatest, but if you use romaine hearts (which are pretty sturdy) the leftover salad will still be good the next day for lunch.
I hope you love this steak Caesar salad as much as I do!
Happy steak salad making,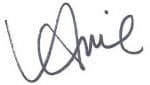 💌 Sign up for the Girl Gone Gourmet Newsletter and get recipes delivered straight to your inbox!
More Easy Recipes with Beef
📣 Do you love this recipe? I would love to know! Leave a comment below the recipe along with your recipe star rating.
Print
The nutrition is an estimate only. It was calculated using Nutrifox, an online nutrition calculator.