This easy Panko Crusted Salmon recipe is ready in 20 minutes! Delicious salmon with mayo sauce and panko is a simple and healthy-ish dinner when you're craving something light.
Salmon on its own is great, but panko salmon? Even better. You get the rich, flavorful fish plus a crunchy topping because who doesn't love a crunchy topping?
Plus, it employs one of my favorite breading tricks. Instead of coating the fish in whisked eggs before adding the panko, we're using mayonnaise. It's the same hack I use for breaded baked chicken, and it works equally well here. If flavor is your goal, don't skip the herby mayo, my friends. It makes a big difference.
In the end, you get a delicious salmon dinner that's ready in about 20 minutes. Add a side like steamed or roasted broccoli for extra bonus points!
Ingredients
Salmon fillets
Kosher salt and black pepper
Garlic powder
Mayonnaise
Dried dill
Dried parsley
Panko bread crumbs
Lemon slices
Fresh parsley and lemon wedges for garnish
Can you use breadcrumbs instead of panko?
Yes, you can, but the texture will be different. Panko is extra crispy and will stay that way after you sprinkle it over the mayo coating. Regular breadcrumbs may get absorbed, so if you try them, you might want to add a little more, so you still get a crunchy texture.
How to Make Baked Salmon with Mayo
For this panko salmon, the best oven temperature is 400°F. The fish will cook fast and the panko topping will get crispy golden brown.
While the oven preheats, prepare the fish. Pat the fillets dry and season them with the salt, pepper, and garlic powder. Place the fillets skin side down on a baking sheet lined with aluminum foil.
Stir the mayo, dill, and parsley in a bowl until combined. Spread the mayo mixture on top of the salmon and then sprinkle the panko breadcrumbs over the top of the fillets. Top the panko with the lemon slices.
Bake the salmon for about 10 to 15 minutes. The cooking time will depend on how thick your fillets are, so the easiest way to know they're done is to use a meat thermometer. Check the internal temperature in the thickest part of the fillets – it should read 130°F.
If you don't have a thermometer, you can use a fork to flake the salmon. It should flake easily but still be very moist.
For the finishing touch, turn the oven to broil and broil the fillets for about a couple of minutes or until the topping is golden brown. Keep an eye one them – this step won't take long.
Garnish the panko salmon with chopped parsley and lemon wedges.
Storage Tips
Leftover panko salmon will keep for a day or so in the fridge. The panko topping will soften, so keep that in mind.
Instead of reheating the leftovers, I like to flake the salmon to use in a salad instead. If you microwave it, it will end up overcooked and not so nice.
I hope you give this panko-crusted salmon a try soon! I think you'll love that mayo sauce under the crispy coating. It really does make a difference – enjoy!
Happy cooking,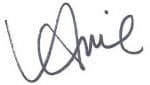 More Recipes to Try
📣 Do you love this recipe? I would love to know! Leave a comment below the recipe along with your recipe star rating.
Print
The nutrition is an estimate only. It was calculated using Nutrifox, an online nutrition calculator.