For Thanksgiving, the main dish is pretty straightforward, but it's deciding what to serve with the roasted turkey that can pose a problem. If you're looking to try some new Thanksgiving dinner recipes, I've got 30+ recipes (appetizers! side dishes! desserts!) for you to browse.
Table of contents
Appetizers
Thanksgiving dinner is usually an all-day affair so it's nice to have some choice appetizers and snacks on hand for guests (and the cook!) to nibble on! Here are a few best snacks and bites to have out while everyone is waiting for the Thanksgiving turkey.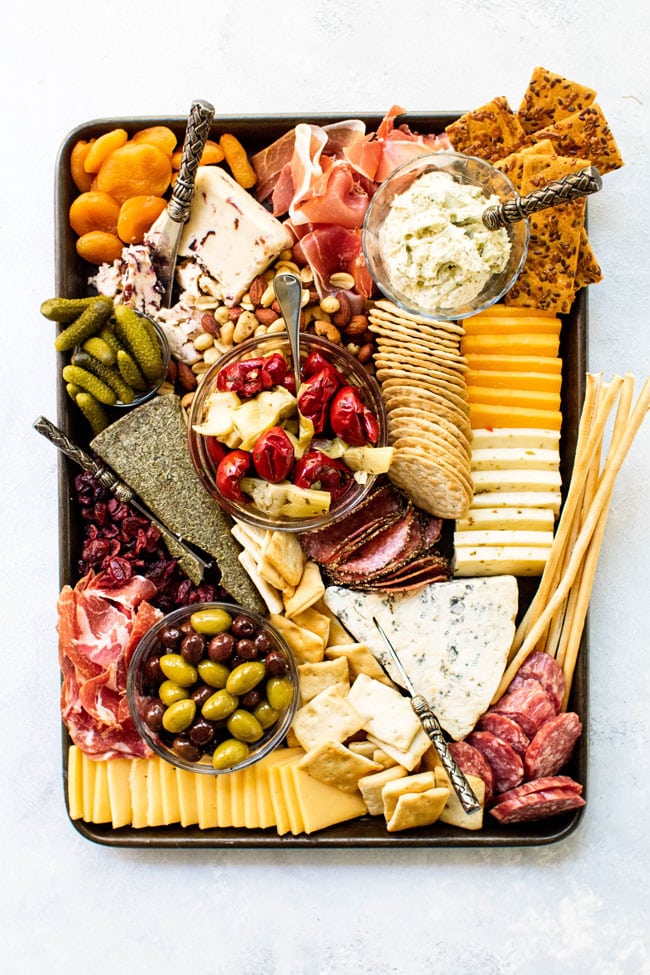 Cheese Board | What better way to kick off Thanksgiving Day than with an epic cheeseboard? Learn how to assemble a beautiful cheese board that might just steal the show (sorry, turkey!).
Goat Cheese Stuffed Mushrooms | Stuffed mushrooms are always a hit especially if they're stuffed with goat cheese and topped with a crispy topping.
Roasted Red Pepper Basil Pinwheels | Who doesn't love a retro pinwheel? This version has pesto cream cheese with roasted red peppers all rolled up in flour tortillas. Make them ahead and keep them in the fridge for an easy Thanksgiving appetizer.
Apple & Sage Pork Sausage Rolls | I like to make these in the morning and leave them out for snacking while Thanksgiving dinner is being made. They're delicious hot but great at room temperature, too. They are addictive savory bites!
Prosciutto Asparagus Puff Pastry Bundles from Fox and Briar | These elegant puff pastry bundles are filled with fresh asparagus, prosciutto, and nutty Gruyere cheese. That golden flaky puff pastry looks delicious.
Onion Dip | In my opinion, no holiday celebration is complete without an onion dip. This is my amped-up version complete with caramelized onions, crispy bacon, and roasted garlic and the best part is that you use your slow cooker to caramelize the onions. This dip is best if you make it ahead so it's one less thing to think about on the big day.
Spinach Artichoke Dip | This is a super easy dip recipe – just mix, bake, and serve. It's cheesy, creamy, and perfect with tortilla chips, crackers, and veggie sticks.
Pimento Cheese Dip | This is another easy dip recipe that you can make ahead and just pull out of the fridge with some crackers or chips. Plus, if there's any leftover, it makes for a decadent spread for a toasted bagel the next day.
Slow Cooker Honey Garlic Meatballs | All you need is a slow cooker and five ingredients to make these honey garlic meatballs.
Soup Recipes
Serving a creamy soup inspired by fall flavors is an elegant and delicious way to start a Thanksgiving dinner. Here are a few inspired soup recipes for the season most of which can be made ahead and warmed up on Thanksgiving Day. Serve them in bowls as a starter or serve them up as mini soup shooters as a fun appetizer.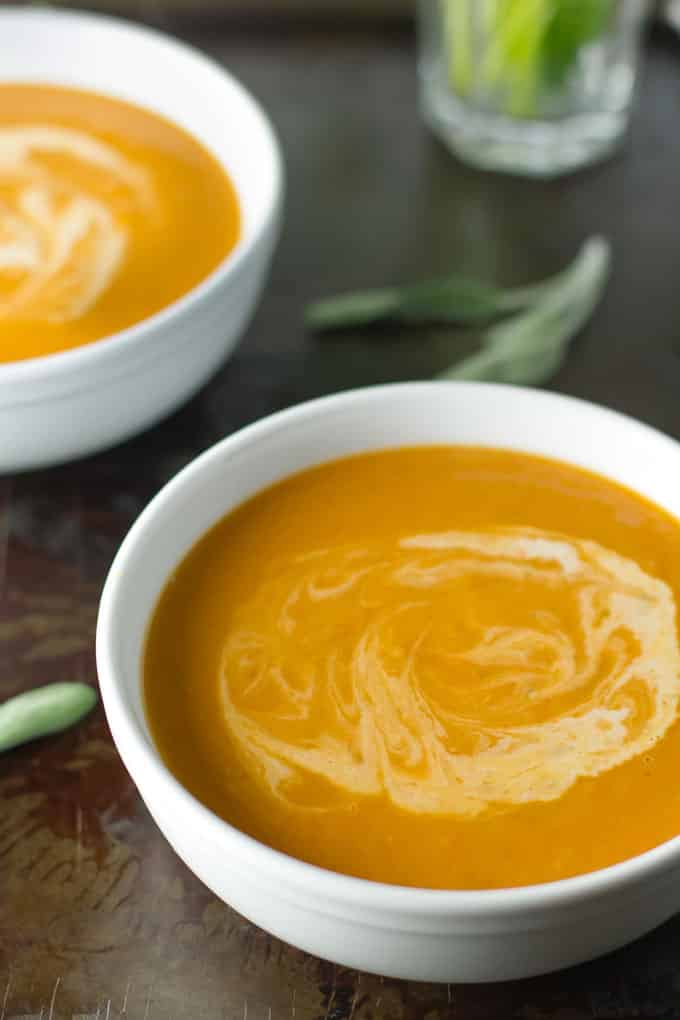 Creamy Butternut Squash and White Bean Soup | This creamy soup is made with roasted butternut squash and white beans, which helps thicken the soup. Flavored with sage it's a great way to kick off the big dinner.
Mushroom and Leek Soup | Mushroom and leeks go together like peas and carrots! This easy soup is rich with mushroom flavor with just a touch of cream for a little decadence.
Spicy Pumpkin Soup – from Chili Pepper Madness | I love this recipe because it has a kick of heat from cajun seasoning instead of the regular cinnamon and nutmeg you see with other recipes. For something unexpected, this pumpkin soup would be a great choice.
Roasted Acorn Squash Soup | The color and flavors in this creamy soup are perfect for a Thanksgiving starter.
Side Dish Recipes
If you're tired of the same old side dishes for the Thanksgiving table I think you'll find some inspiration here! There are a few of the best Thanksgiving recipes to go with the roasted turkey like creamy gratins, easy mashed potatoes, and lots of creative roasted vegetables.
Easy Crock Pot Mashed Potatoes | I believe the best mashed potatoes are over-the-top mashed potatoes with plenty of cream, sour cream, and butter since I only make them a few times a year. Plus, these crockpot potatoes save room on the stove – the potatoes cook in the crockpot until they are fork-tender and then you just mash and serve.
Roasted Cauliflower Gratin | Roasted cauliflower baked in a rich and creamy bechamel sauce. Colleen, a GGG reader, says "I just made this for Canadian Thanksgiving and it was incredible! Thank you! The onion and roasted garlic definitely took this to the next level of flavour. This is a keeper."
Brussels Sprouts Gratin | Or, if you love brussels sprouts, this delicious gratin side dish is one of my favorites. Readers love it, too! Mindy, a GGG reader, says "I made this for our Canadian Thanksgiving. Let me just say… a complete hit!"
Green Bean Casserole – from Life in the Lofthouse | Always a classic and this recipe looks delicious!
Lemon-Honey Glazed Carrots | Quick! Easy! Low-Maintenance! These are just a few superlatives to describe these carrots because they seriously take maybe 20 minutes from start to finish.
Balsamic Roasted Brussels Sprouts and Shallots | Deeply caramelized brussels sprout and shallots are an easy side dish and hold well at room temperature. Forgiving side dishes on Thanksgiving are always a good thing.
Green Bean Potato Salad | This isn't a mayo-laden potato salad but, instead, it's a combination of fresh green beans with Yukon gold potatoes pulled together with a simple Dijon vinaigrette. Serve it warm or at room temperature for an unexpected Thanksgiving side dish.
Baked Macaroni and Cheese | Rich and cheesy baked macaroni and cheese made with a classic bechamel sauce and two types of cheese. It's rich, creamy, and a perfect side dish for holiday dinners!
Sauteed Green Beans | This sautéed green beans recipe is an easy side dish full of flavor. Fresh green beans are sauteed in a skillet with garlic, butter, and fresh herbs until they are buttery and crisp-tender.
Roasted Sweet Potato and Arugula Salad | The contrast of sweet potatoes with the lightly bitter arugula is a delicious combination in this salad. If you're looking to try a new salad side dish this year this would be a great choice.
Roasted Sweet Potato Wedges | It doesn't get any easier than these roasted sweet potato wedges. They're lightly seasoned and so delicious! Or, try my Roasted Parmesan Potatoes which are easy to make, too.
Roasted Radishes with Red Onions | This easy roasted vegetable side dish is beautiful and delicious. Raw radishes have a bit of a peppery bite, but when you roast them the flavor mellows and they turn subtly sweet.
Roasted Green Beans with Bacon | There's a reason I'm sharing so many roasted vegetable side dishes – they're so easy! So, here's one more for you: a simple roasted green bean dish with bacon. I mean, there's bacon – do I need to say more?
Thanksgiving Desserts
I like pie, but I usually leave the pie-making to people who really love it and, instead, opt for other types of desserts that have an element of surprise. There are a lot of familiar flavors here – pumpkin, cranberries, and pecans – but turned into desserts that don't need a homemade pie crust.
Pumpkin Cookies | These iced pumpkin cookies are soft, lightly spiced, and topped with cream cheese frosting. Plus, this no-chill pumpkin cookie recipe is ready in less than an hour.
Cranberry Apple Crisp | Tart cranberries and sweet apples topped with a simple oatmeal crisp topping. Serve this easy dessert with a scoop of ice cream or dollop of whipped cream.
Pumpkin Pudding Parfaits | All the flavors of pumpkin pie but served up as a pudding. This is a dessert you can make ahead for Thanksgiving – the pudding needs time to set up and chill in the fridge – so all you have to do when it's dessert time is add some whipped cream.
Dark Chocolate Pecan Bars | I love chocolate pecan pie, but I hate making pie crust. These dessert bars have all the richness and pecan flavor without having to roll out dough. Plus, you can make them ahead and then slice and serve!
Caramel Apple Cupcakes | Caramel apple cupcakes are filled with caramel sauce and topped with cinnamon frosting. The apple cupcakes are soft and tender and every bite has oozing caramel.
Pumpkin Cheesecake | Okay, so this decadent cheesecake might be a bit labor-intensive, but all of it can be made ahead. It's basically a classic New York-style cheesecake with a pumpkin twist and a gingersnap cookie crust. It's creamy, rich, and a great way to end the big meal.
Cranberry Pie Bites | These pie bites aren't necessarily for Thanksgiving day, but a treat to make the day after. I realized that there's always a ton of cranberry sauce leftover every year, so I made these a few years back as a way to use up the extra cranberry sauce. They're sweet and tart and super easy to make with store-bought pie dough.
Main Dishes
Here are two of my personal favorites you might like to try! Whether you're hosting a small group or orchestrating a giant Thanksgiving feast, these two recipes are great choices.
Cornish Game Hens | Hosting a small holiday meal? Roasted Cornish game hens are perfectly sized for a small gathering and so easy to prepare.
Wolfgang Puck's Brined Roasted Turkey – from Food Network | I've made this roast turkey at least three or four times for Thanksgiving and it's always delicious! It's great if you're hosting a crowd. The drippings also make the best turkey gravy.
I hope you've found some new Thanksgiving menu ideas to try this year!
Happy Cooking 🦃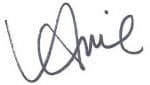 More Holiday Recipe Collections