If you love pasta, you will love this recipe round-up! Take a browse through 20+ easy pasta recipes and find some new favorites to try.
There's a little bit of everything in this pasta recipe round-up. Plenty of cheesy options, ones with chicken and some with shrimp, and all kinds of recipes that use different pasta shapes.
I hope you've found some new delicious recipes to try!
Happy Cooking,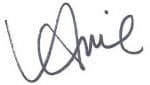 Post updated from the archives. First published in September 2017.