Looking for Cinco de Mayo recipes? Here are 40+ main dishes, drinks, sides, appetizers, and desserts perfect for your celebration. There's a mix of traditional Mexican recipes plus Americanized ones, too, and all of them are delicious!
📩 Want inspiration sent directly to your inbox? Sign up for the Weekly Newsletter!
If it's Cinco de Mayo, it's time for all the enchiladas, chips and salsas, margaritas, and taco recipes so I've gathered all of my favorites for you to browse. Whether it's Mexican-inspired, tex-mex, New Mexican, or authentic Mexican dishes, there's a little bit of everything in this list. So take a browse and find some inspiration!
Main Dishes
BEEF FAJITAS | Easy steak fajitas with marinated beef, colorful peppers, and onions wrapped up in tortillas make for a delicious dinner that's ready in 20 minutes!
CHEESY BEEF ENCHILADAS | Seasoned beef wrapped up in tortillas and topped with a creamy cheese sauce is a comforting and delicious dinner.
CHICKEN TINGA | This recipe is ready in about 30 minutes. It's a combination of tomatoes, shredded chicken, and chipotle peppers for a spicy, smoky kick. Use it to make delicious tacos or as a topping for tostadas.
BEEF AND SWEET POTATO ENCHILADAS | These hearty ground beef enchiladas are ready to serve in less than an hour! A few key shortcuts make them so easy to make you can also make them up to a day ahead to bake for dinner later.
CHIPOTLE CHICKEN TACOS | These tacos are a little spicy, a little smoky, and a whole lot of deliciousness. The chicken is marinated in a simple chipotle sauce and tucked into tortillas with a cool and crunchy cilantro-lime coleslaw.
SHRIMP FAJITA BOWLS | This is a great dinner when you're craving something light. The seasoned shrimp and bell peppers with cilantro lime rice is easy to make in about 30 minutes.
SALSA VERDE CHICKEN ENCHILADAS | These enchiladas have homemade salsa verde, Monterey jack cheese, and are garnished with sour cream and red onion. The chicken and salsa cook in the slow cooker so when it's time for dinner you just assemble and bake the enchiladas.
BEEF BURRITO BOWLS | Easy burrito bowls with all the toppings including a creamy burrito sauce and super simple cilantro-lime rice. This dish is full of fresh flavors, can be prepped ahead, and is ready in 30 minutes!
CHILE COLORADO | This is a simple Mexican chile dish made with pork, dried chiles, and a few other simple ingredients that simmer together until the pork is tender. You can make it mild or hot depending on the type of chiles you use, and it's delicious served over rice or with tortillas.
EASY SHRIMP TACOS | For these tacos, shrimp are coated in a sweet and spicy sauce made with chili seasonings, honey, lime juice, and garlic. Serve the shrimp and sauce on warm tortillas with a simple creamy cabbage slaw for an easy 30 minutes dinner.
BLACK BEAN AND SPINACH ENCHILADAS | These are really easy enchiladas with black beans and spinach. The enchilada sauce and filling are both simple to make- no precooking required! Just mix, roll, and bake.
SALSA VERDE EGGS | Make these salsa verde eggs for breakfast, lunch, or dinner! It takes less than 15 minutes start to finish. Warm corn tortillas topped with eggs cooked in salsa verde just until the whites are set. Add some crumbled cheese, sliced avocado and cilantro for the final touch.
EASY TACO SALAD | Ground beef taco salad tossed in a homemade Catalina dressing with a chili twist. Loaded with veggies, beans, and cheese this taco salad is a 30-minute weeknight dinner that's full of fresh flavors.
CREAMY POBLANO CHICKEN ENCHILADAS | These enchiladas are all about the creamy poblano sauce. The combination of the rich white sauce flavored with warm poblano peppers and fresh cilantro is so delicious. A store-bought rotisserie chicken makes these enchiladas so easy to make.
GROUND TURKEY TACO BOWLS | Easy 30-minute ground turkey taco bowls for two with all the toppings! Ground turkey seasoned with spices, corn, and pinto beans spooned over rice. Topped with sliced avocado, diced tomatoes, queso fresco, and sour cream.
BBQ PORK TENDERLOIN TACOS | These pork tacos are topped with a simple homemade BBQ sauce and wrapped up in flour tortillas along with a tangy jicama-radish slaw.
STEAK TACO SALAD | This fast and fresh steak taco salad for two has tender pan-seared sirloin, creamy diced avocado, black beans, pepper jack cheese, and a super simple 3-ingredient salsa verde dressing.
ENCHILADA PIE | Layers of flour tortillas, black beans, and sauce is a fun twist on traditional enchiladas. Serve it with all of your favorite toppings for an easy-to-make weeknight dinner.
INSTANT POT BRAISED BEEF TACOS | Tender seasoned beef wrapped up in tortillas with all the toppings, including a simple creamy salsa-inspired sauce, is totally doable on a weeknight thanks to an Instant Pot. These beef tacos are easy to prep and are ready to go in less than an hour.
Here are a few more delicious dinner ideas from other sites I love:
Appetizers
QUESO BLANCO | This easy cheese dip is make in the slow cooker! Two kinds of cheese plus seasonings make the best cheesy dip.
HOMEMADE SALSA | This salsa is not watery, not too thick, and full of fresh flavors from tomatoes, cilantro, and jalapeno. This is a cooked salsa recipe that is ready to go in less than 30 minutes. It's full of fresh flavors and so easy to make.
GREEN CHILE PORK QUESADILLAS | Ground pork and green chile combine to make delicious quesadillas. This is an easy recipe – they cook on a sheet pan in the oven until hot and crispy!
SIMPLE GUACAMOLE | Irresistibly scoopable guacamole! This is my go-to simple guacamole recipe – you're just four ingredients and 10 minutes away from this bowl of goodness.
CORN SALSA | This fresh and fast corn salsa is a quick 15 minute recipe. Serve it with tortilla chips for a delicious appetizer, or add it to your favorite Mexican food dishes for a pop of fresh flavors.
AVOCADO SALSA VERDE | This fresh salsa combines avocado with green salsa for a delicious dip.
CHEESY REFRIED BEAN DIP | Cheesy bean dip made with refried black beans and three kinds of cheese is a super easy hot dip appetizer!
COWBOY CAVIAR GUACAMOLE | This dip combines two classics into one scoopable appetizer with tons of flavor!
PICO DE GALLO | This homemade salsa fresca is full of fresh flavors from tomatoes, red onion, jalapeno, cilantro, and lime juice. It's great with chips or serve it with tacos, nachos, burritos, and eggs – basically, anything that needs a pop of fresh Mexican flavors.
Craving more appetizer ideas? Here a few extra ideas from some other great sites:
Side Dishes
AVOCADO SHRIMP SALAD | Quick and easy avocado shrimp salad with a zingy cilantro-lime dressing, bell pepper, corn and lots of creamy avocado. It's a no-cook, 20-minute recipe!
5-MINUTE CILANTRO-LIME RICE | This cilantro-lime rice is so quick and easy. You only need a few ingredients to make it and it cooks in the microwave in just a few minutes. It's one of my favorite fast side dish recipes.
Give these great side dishes a try, too!
Drinks
CITRUS MARGARITAS | This is one my favorite margarita recipes – it's made with fresh-squeezed citrus juice for a cold, boozy drink that's perfect for an at-home happy hour. The drinks are made with fresh orange, grapefruit, lemon, and lime juice for a refreshing drink.
PINEAPPLE AGUA FRESCA | A refreshing agua fresca made with fresh pineapple, lime juice, and a touch of honey is an easy drink to make for the spring and summertime. It's light, refreshing, and perfect on a hot day.
MARGARITA WINE SPRITZERS | A wine spritzer gets a margarita twist! White wine takes the place of tequila in this easy margarita-inspired drink. It's easy to make and so refreshing.
A couple more fantastic drinks to try:
Desserts
If you want a sweet finish for your Cinco de Mayo fiesta, here are some amazing dessert recipes I found that you might want to try. I definitively have them on my list this year!
Whether you're having a Cinco de Mayo party or a gathering for a few, I hope you've found some new recipes to try!
Happy Cooking,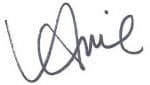 P.S. You might like to browse my Summer Side Dishes collection, too!
Post updated from the archives. First published in April 2017.