Looking for some recipe ideas for your Labor Day cookout? I've gathered up my favorite main dishes, side dishes, appetizers, and drinks that are perfect for the upcoming long weekend. Creative burgers, hot dogs, sandwiches along with delicious summer salad recipes, pasta salads, baked beans, and other side dishes are just a few ways to celebrate. Don't forget to make a cold drink to go with them! There's even a few Labor Day dessert ideas to finish the meal. You will love these recipes for your weekend cookout, potluck, or BBQ.
Browse these Labor Day recipes by clicking the links below! I hope you find some delicious dishes to try.
Main Dishes
French Onion Hot Dogs | Give hot dogs a gourmet makeover with caramelized onions, Gruyere cheese, and a simple herb mayo sauce. This is a great grilling recipe for the long weekend!
Chicken Fajita Burgers | Marinated chicken burgers with all the fajita toppings is a fun twist on burgers!
Turkey Burgers with Creamy Herb Dressing | These summery turkey burgers are topped with avocado, fresh greens and a creamy herb dressing.
Chipotle Chicken Tacos | These tacos are a little spicy and smoky with a cool and crunchy cilantro-lime slaw. The chipotle sauce is easy to make and so delicious!
Fresh Salmon Burgers | These burgers are made with fresh salmon (not canned!) and are full of fresh flavors. Plus, they're ready in 30 minutes.
Greek Burgers | Switch up the burger recipes with these tender, juicy lamb burgers topped with creamy tzatziki, cucumber, tomato, and red onion.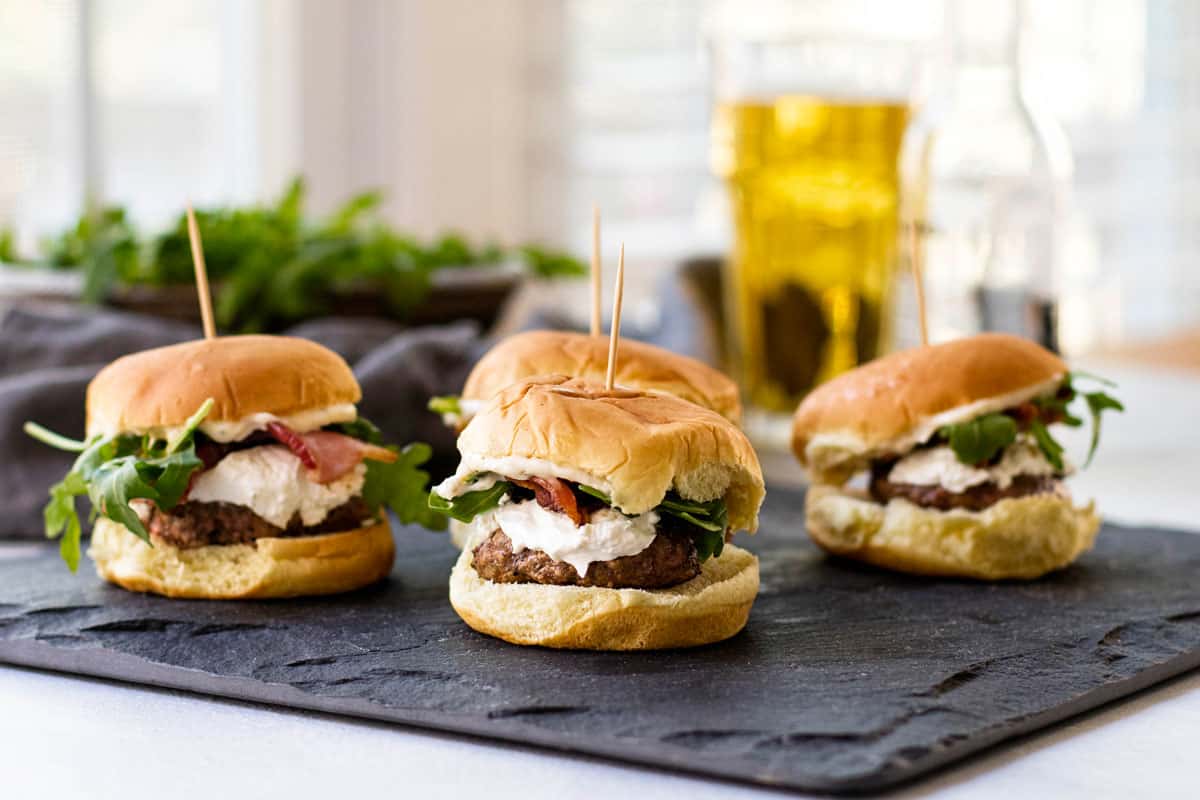 Bacon and Goat Cheese Sliders | Sliders are always fun for parties and these ones are dressed up with creamy goat cheese, crispy bacon and fresh arugula.
Caprese Roast Beef Sandwiches | Skip the store bought sandwich platters and make this easy Caprese roast beef sandwich instead. It's fresh, flavorful, and makes eight sandwiches to share.
Bacon Cheeseburger with Green Chile Sauce | Give your burger an upgrade with a creamy green chile mayo sauce.
Beer and Honey BBQ Chicken Skewers – from Jo Cooks | Delicious marinated chicken breasts grilled with veggies looks so good!
Easy Lemon Herb Chicken Kebabs from Simply Delicious Food | These easy kebabs are perfect for a summer party!
Healthy Chicken Marinade Recipes – from The Cook at Home Mom | Lots of chicken marinade options in this post that would be great for the long weekend.
Homemade BBQ Sauce – from Well Plated | A spicy-sweet homemade barbecue sauce that takes just 15 minutes to make!
Side Dishes
Italian Pasta Salad | This is your classic Italian pasta salad with all the delicious add-ins like pepperoni, olives, fresh mozzarella and a zesty homemade dressing.
Green Bean Potato Salad | If you want to skip the mayo dressing for your potato salad this is the recipe to make. Green beans and potatoes tossed in a zingy mustard vinaigrette is a great side dish for a BBQ.
Pesto Pasta Salad | This salad doubles as a side dish or a main dish and is full of fresh summer flavors.
Baked Black Beans | This baked bean side dish goes with all the summer main dishes. It's rich, smoky and delicious!
Mexican Fruit Salad | Fresh fruit tossed with a spicy-sweet dressing is a great side for a warm day.
BLT Pasta Salad | Everything you love about a BLT but served up as a pasta salad!
Avocado Shrimp Salad | This quick and easy shrimp salad has creamy avocado, lime juice, and cilantro with fresh veggies.
Eggplant Casserole | If you're looking for a way to use all the garden produce in one epic side dish this is the one to try. It's a great side for all the grilled dishes for Labor Day weekend.
Sweet Corn and Black Bean Salad | Have some grilled corn? Use it to make this fast and fresh black bean and corn salad with a zippy lime dressing. This is a great summer side dish for all the potlucks, BBQs, block parties.
Orzo Pasta Salad | Fresh and colorful pasta salad is the perfect dish to pair with grilled chicken, steak, and pork. It's light and full of fresh flavors.
Creamy Sour Cream Potato Salad | This potato salad is all about the creamy sour cream and mayo dressing with fresh herbs.
Bacon Ranch Pasta Salad Recipe | Cool and creamy homemade ranch dressing tossed with pasta, bacon, smoked cheddar, and green peas. It's so good!
Appetizers
Pimento Cheese Dip | A quick 10-minute pimento cheese dip is a must-make! It's a simple mix-and-serve appetizer made with sharp cheddar cheese, cream cheese, peppers and mayonnaise otherwise know as a combination of flavors that's hard to resist.
Easy Homemade Salsa | Learn how to make homemade salsa with fresh tomatoes. It's a quick blend and simmer salsa that has just the right texture – not too thick and not watery!
Roasted Red Pepper Pinwheels | Pinwheels are a classic and the perfect snack or appetizer. This version has roasted red peppers and pesto cream cheese. Plus you can make them in advance.
Tzatziki Dip | Homemade tzatziki is so easy to make and can be used in so many ways. The cool and creamy cucumber-yogurt sauce can be served as a dip, spread, and dressing and takes all of ten minutes to make.
Deviled Eggs with Bacon and Chives | Deviled eggs are always a favorite appetizer. They are topped with crispy bacon and fresh chives – they are sure to disappear fast!
Simple Guacamole | Irresistibly scoopable guacamole! This is my go-to simple guacamole recipe – you're just four ingredients and 10 minutes away from this bowl of goodness.
Salsa Verde | This salsa is easy to make and full of flavor from fresh tomatillos, poblano peppers, jalapeno and fresh lime juice. Perfect with chips!
Beverages
Strawberry Lemonade | Cold and refreshing strawberry lemonade made from scratch with fresh lemon juice, frozen strawberries, water, and sugar. This homemade lemonade recipe is easy to make and easy to customize, too!
Watermelon Mojito | This is a twist on a classic mojito with fresh watermelon juice. It's fizzy, refreshing and perfect for sipping.
Margarita Wine Spritzers | These are made with margarita mix and club soda. Instead of tequila you mix them with white wine for a refreshing take on a margarita.
Pineapple Agua Fresca | A refreshing agua fresca made with fresh pineapple, lime juice, and a touch of honey. This is an easy drink to make!
Citrus Margaritas | Ice-cold citrus margaritas made with fresh-squeezed juice are refreshing, boozy, and perfect for a long weekend.
Sparkling Vodka Lemonade | Vodka lemonades are perfect for a warm day and easy to adjust to your tastes.
Sparkling Berry Lemonade | Cold and fizzy berry lemonade made with fresh blackberries, strawberries, raspberries, and lemon juice. Perfectly sweetened with a little sparkle. It's the best way to cool off during the long Labor Day weekend.
Desserts
No-Bake Mocha Cheesecake | Cold, creamy, and chocolatey with a hint of coffee. This frozen cheesecake will keep everyone cool for the weekend!
Chocolate Zucchini Bread | This easy quick bread recipe is more cake-like than bread-like. Plus, it's a great way to use up some summertime zucchini.
No-Churn Ice Cream | No ice cream machine? No problem! This no-churn ice cream is rich and creamy – plus, you can customize it however you like. This version has homemade caramel sauce and brownie bites making it a decadent summer treat.
I hope you've found some amazing Labor Day recipes to try!
Happy Cooking,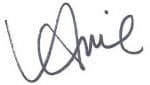 Post updated from the archives. First published in August 2020.