Looking for some recipe ideas for your Labor Day cookout? I've gathered up my favorite main dishes, side dishes, appetizers, and drinks that are perfect for the upcoming long weekend.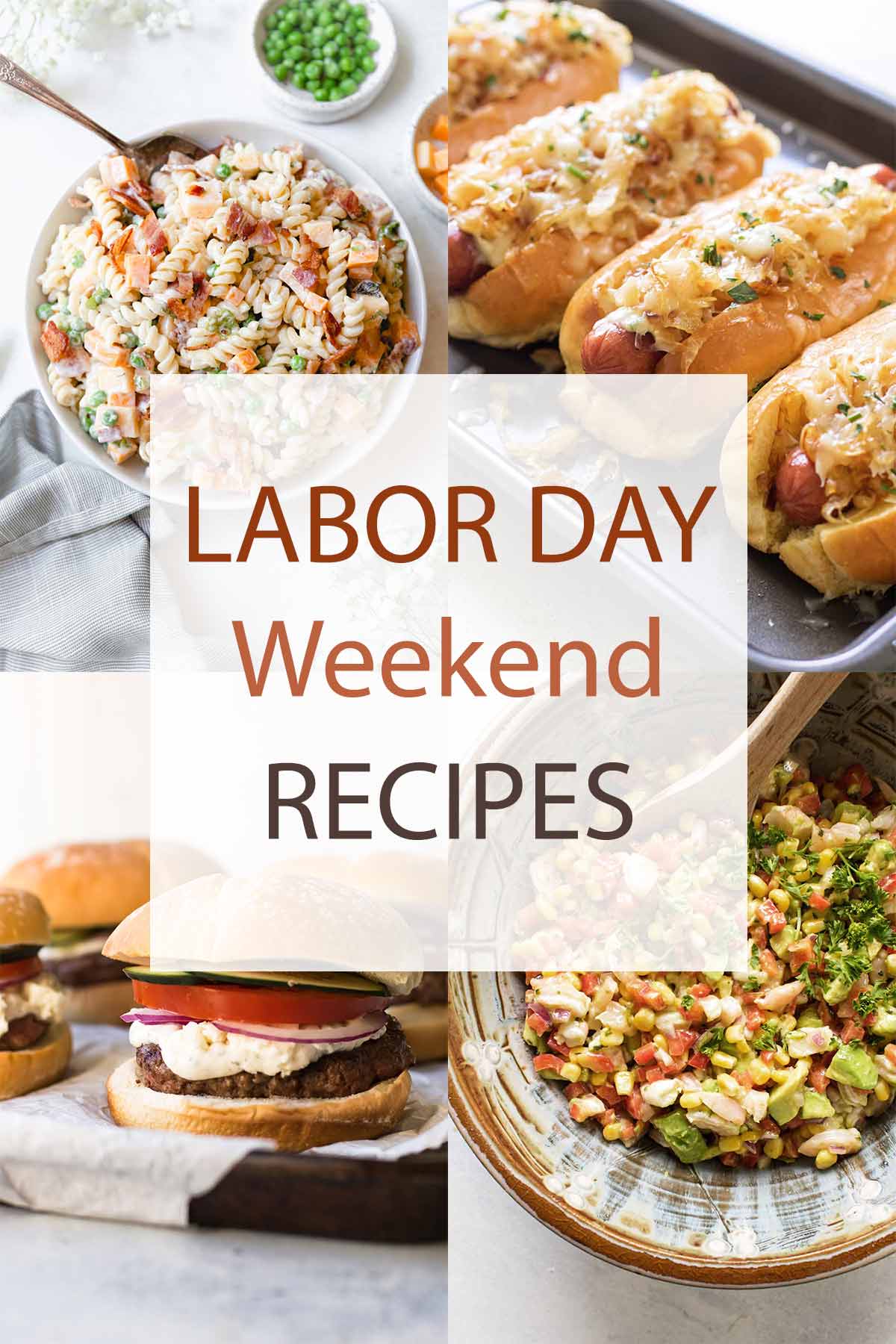 Creative burgers, hot dogs, and sandwiches, along with delicious summer salad recipes, pasta salads, baked beans, and other side dishes, are just a few ways to celebrate. Don't forget to make a cold drink to go with them! There's even a few Labor Day dessert ideas to finish the meal. You will love these recipes for your weekend cookout, potluck, or BBQ.
Main Dishes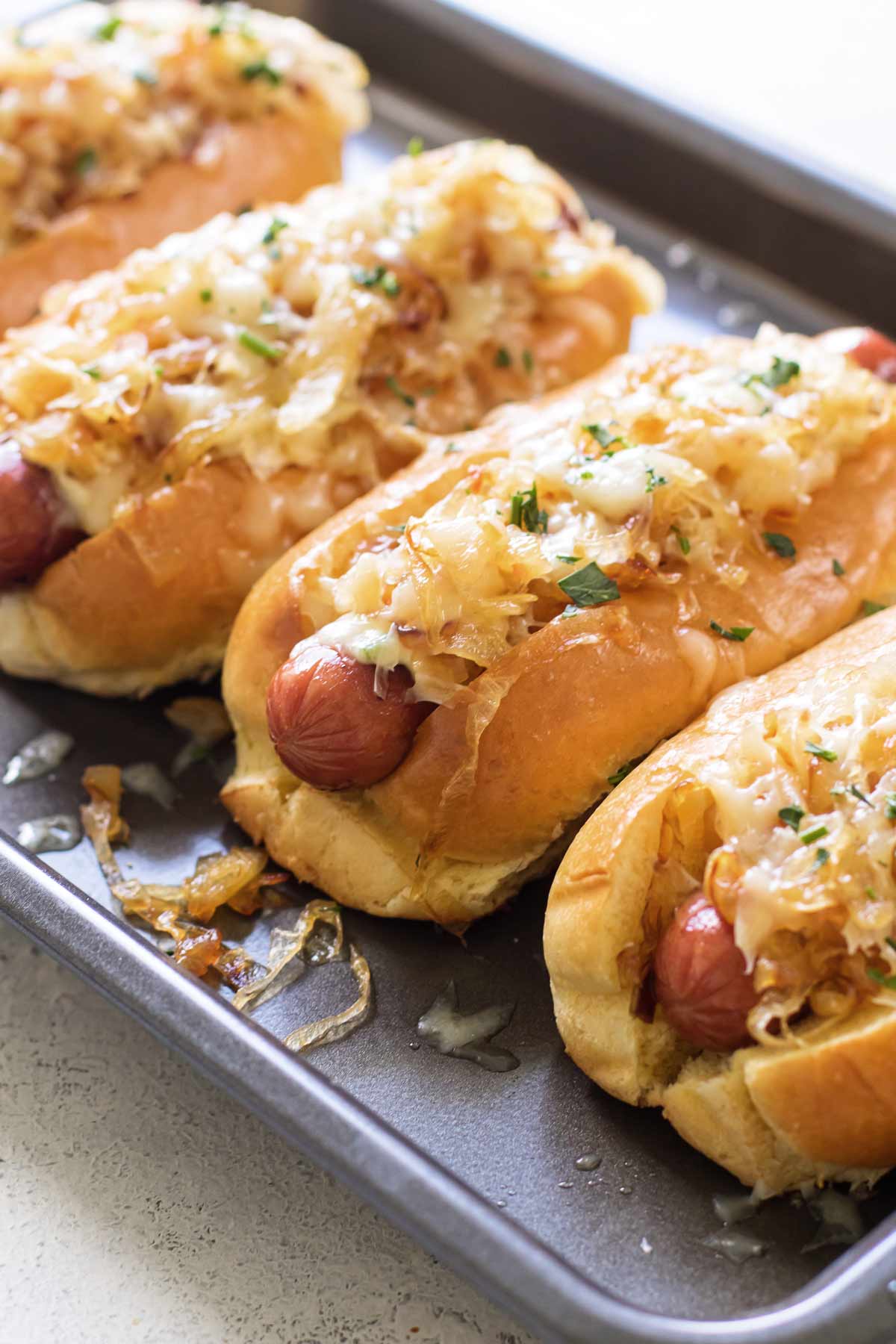 French Onion Hot Dogs
These French onion hot dogs are a great way to give a summer classic a gourmet twist. The hardest part is waiting for the onions to caramelize, but it is so worth the wait. If you love French onion soup, I think you will love this recipe.
Easy Greek Burgers
Greek burgers topped with creamy tzatziki sauce, crisp cucumber, tomato, and crumbled feta cheese. This is an easy burger recipe full of fresh flavors!
Pulled Pork Sandwiches
These pulled pork sandwiches start with an easy slow cooker pork recipe that you can make ahead. The shredded meat is piled on soft buns, drizzled with BBQ sauce, and topped with slaw for a delicious pork sandwich. Make them for a crowd or save leftover pulled pork to use later.
Turkey Avocado Burgers
These summery turkey burgers are topped with avocado, fresh greens and a creamy herb dressing. 
Grilled Chicken Cobb Salad
Cobb salad loaded with grilled chicken, crispy bacon, hard-boiled eggs, creamy avocado, and fresh greens, all tied together with a tangy red wine vinaigrette. It's a light and fresh dish for the long weekend!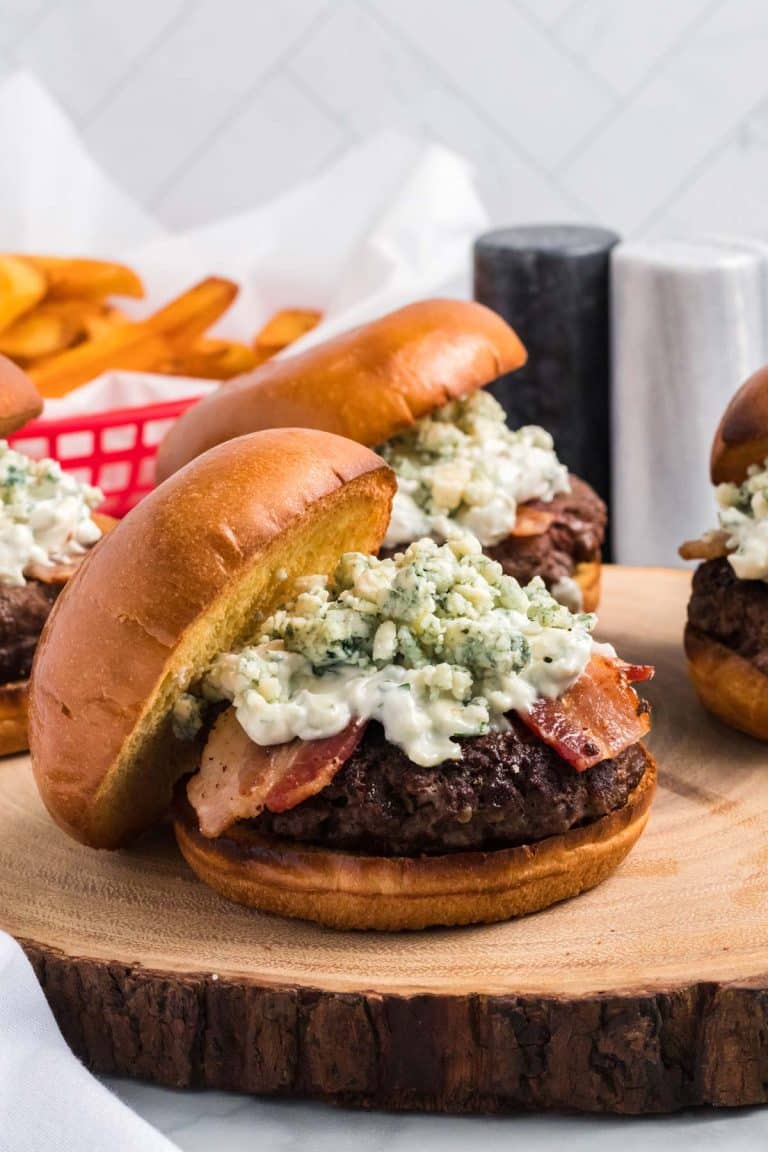 Blue Cheese Burgers
Easy blue cheese burgers with bacon are a restaurant-inspired burger recipe that's easy to make at home.
Caprese Roast Beef Sandwich
This big sandwich combines a fresh caprese sandwich with deli-sliced roast beef. It's great for picnics or summer get-togethers.
Cilantro-Lime Salmon Burgers
Fresh salmon burgers topped with a creamy-cool avocado mayo. The burgers have some zing thanks to some fresh lime zest and chopped cilantro, and they take about 30 minutes from start to finish.
Pineapple-Jalapeno Grilled Drumsticks
Grilled drumsticks brushed with a sweet and tangy glaze with a kick of heat from jalapeno and sriracha. Add some grilled pineapple on the side and pile it all on rice for an easy summer dinner.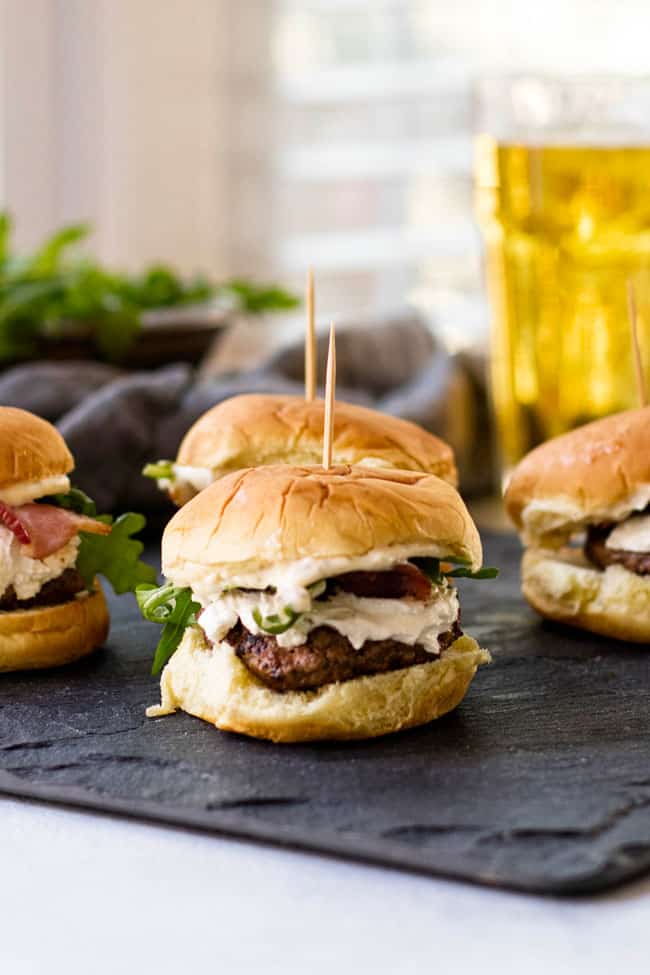 Bacon & Goat Cheese Sliders
Sliders are always fun for parties, and these ones are dressed up with creamy goat cheese, crispy bacon, and fresh arugula.
Bacon Cheeseburgers with Green Chile Mayo
Give your burger an upgrade with a creamy green chile mayo sauce.
Side Dishes
Italian Pasta Salad
This easy Italian Pasta Salad has a tangy homemade dressing and all the Italian-style ingredients like pepperoni, ham, olives, mozzarella cheese, and rotini pasta.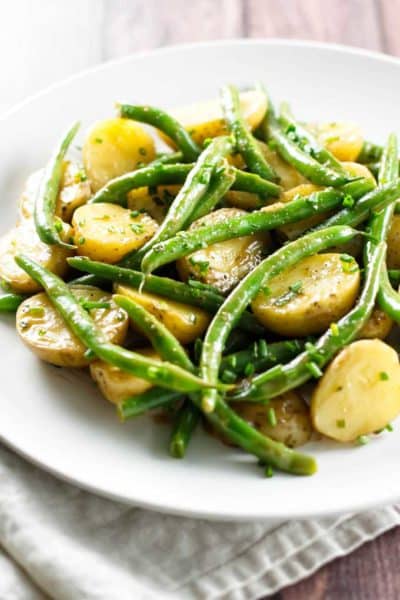 Green Bean Potato Salad
Switch up the old mayo-based potato salad for this fresh and flavorful one that has a Dijon dressing and fresh green beans.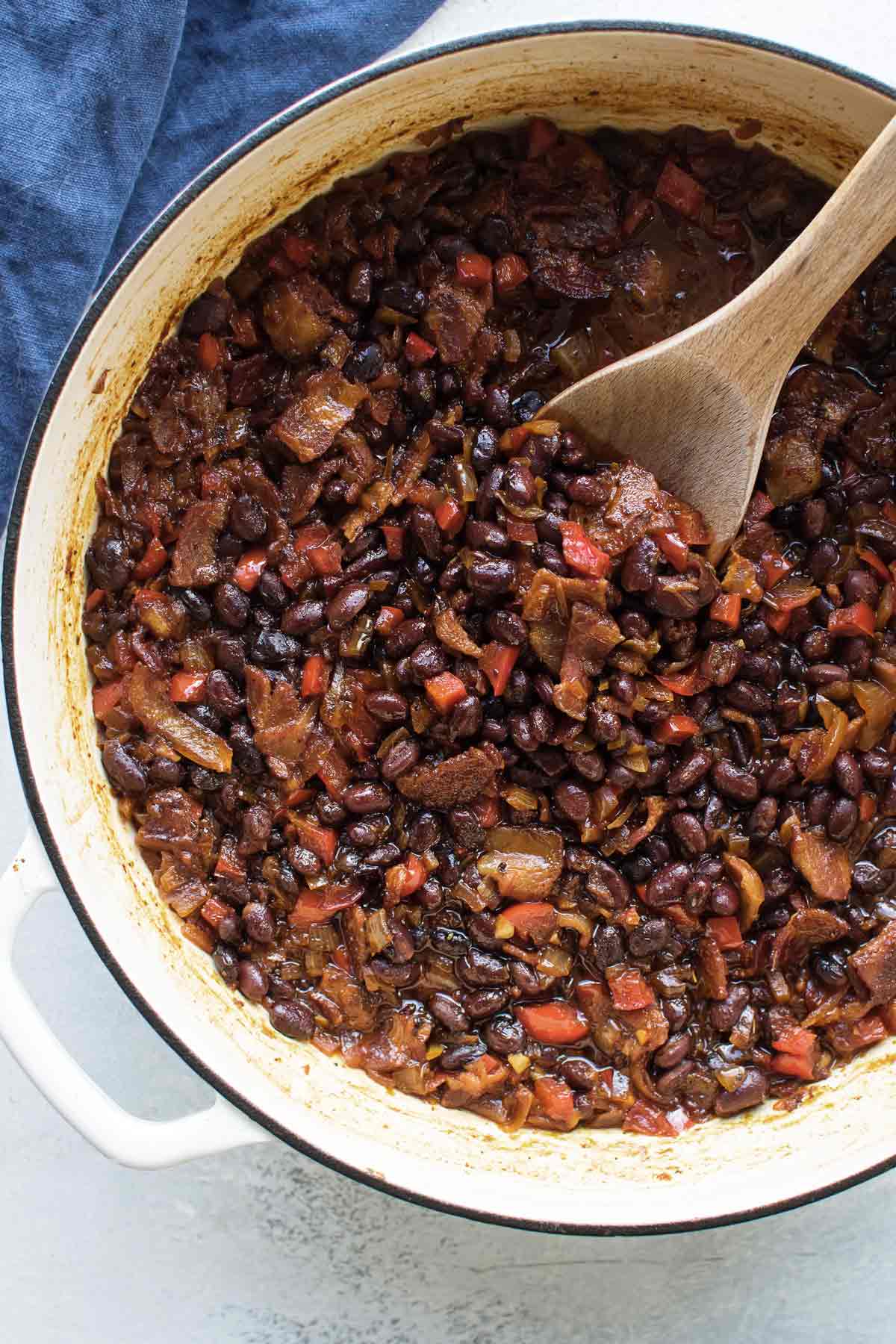 Baked Black Beans
Baked black beans are a great summer side and so easy to make with canned beans. They're easy to prep and then simmer in the oven – serve them with all of your favorite summer main dishes.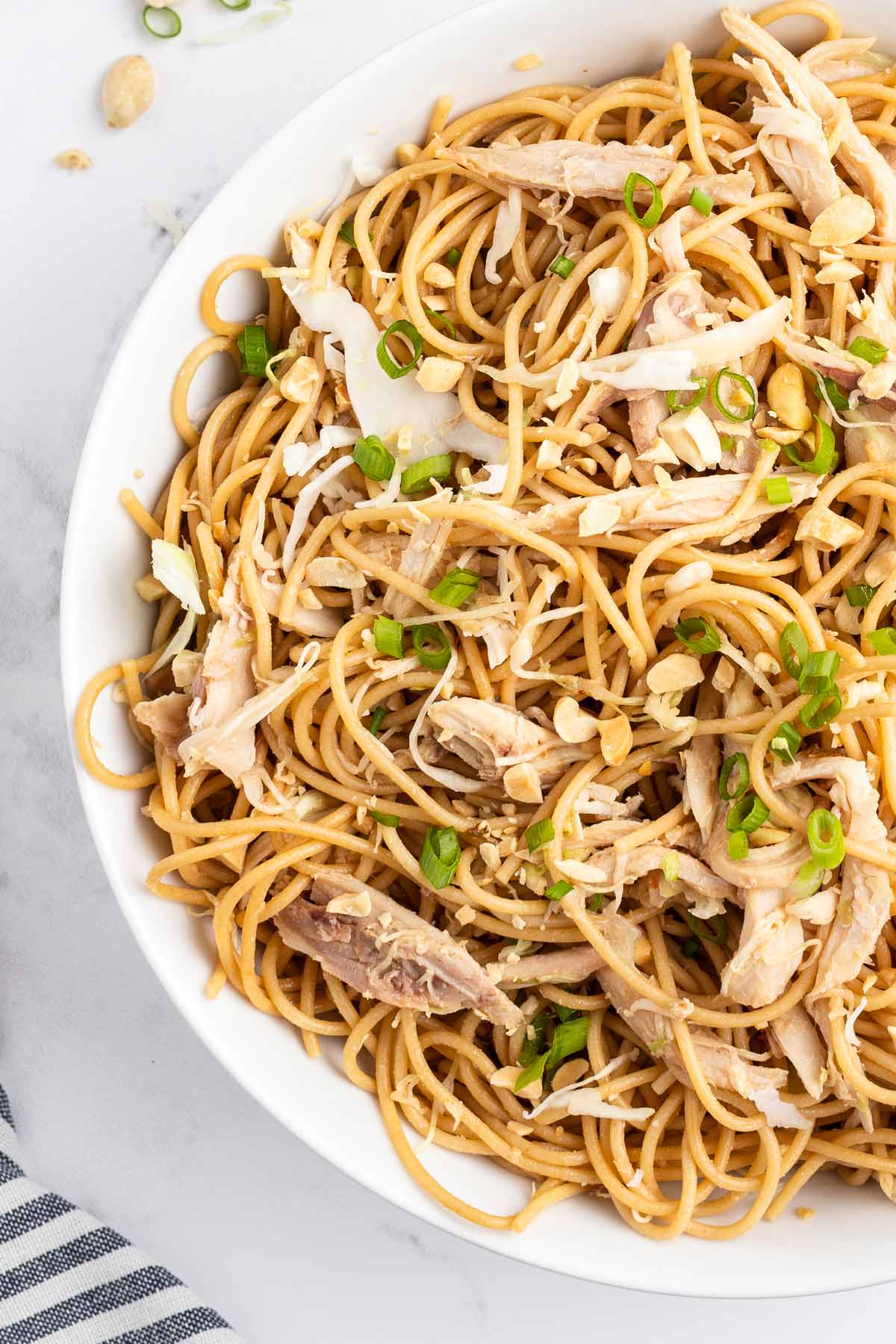 Sesame Noodle Salad
This sesame noodle salad is ready in less than 30 minutes! It's a great side dish or light dinner for the summer and is so easy to make. It has lots of noodles, rotisserie chicken, cabbage, and green onions tossed together with a quick and easy sesame peanut sauce.
Avocado Shrimp Salad
Quick and easy avocado shrimp salad with a zingy cilantro-lime dressing, bell pepper, corn, and lots of creamy avocado. It's a no-cook, 20-minute recipe!
Pesto Pasta Salad
This pesto pasta salad is loaded with fresh veggies like asparagus, spinach, and peas. Add some chicken, pesto, and pasta, and you get a summer-fresh pasta salad that is ready in 30 minutes.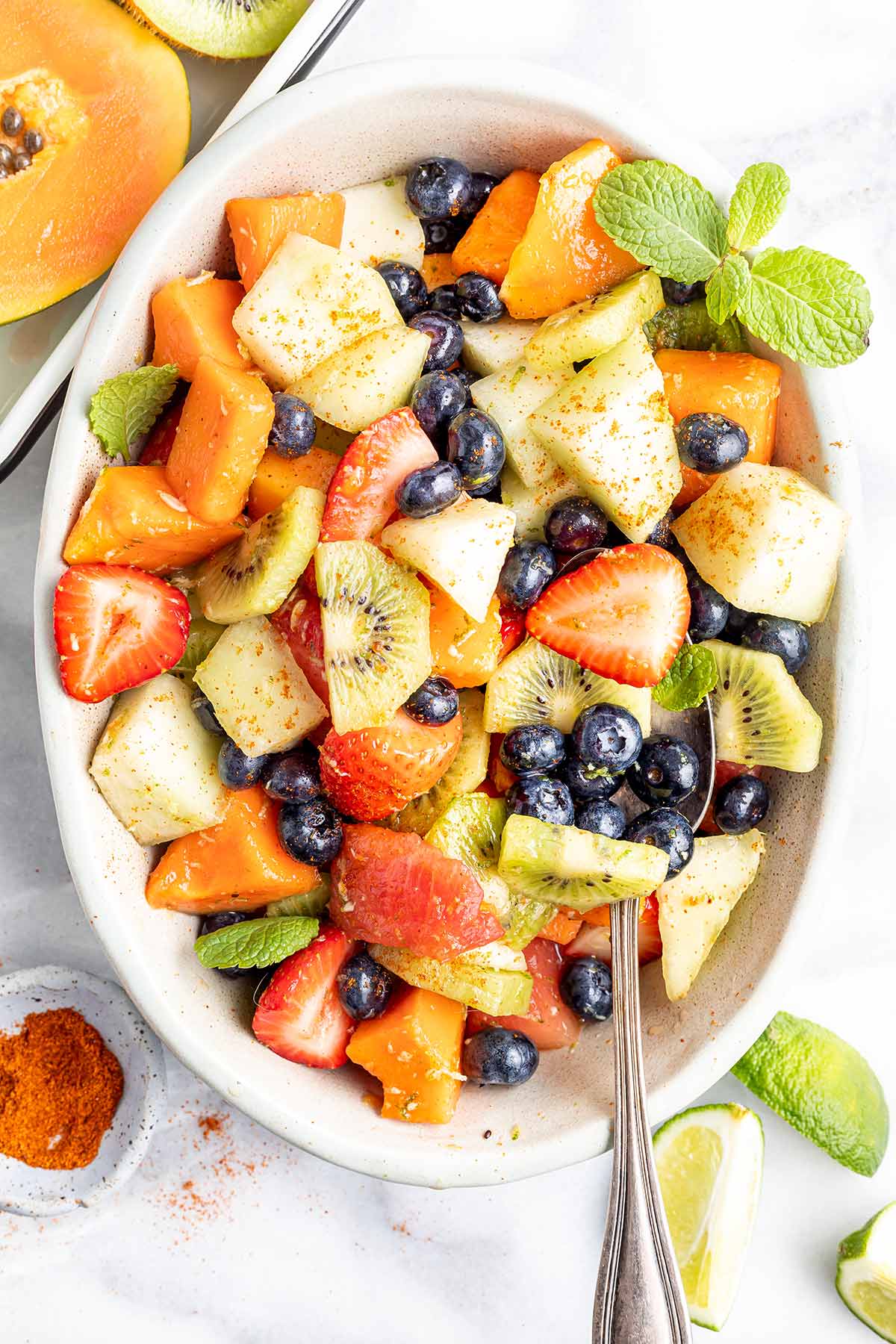 Mexican Fruit Salad
Fresh and light Mexican fruit salad is a combination of summer fruits dressed in a spicy-sweet dressing. It's a great cold side dish for any meal, or make it for your summer potlucks, BBQs, or cookouts.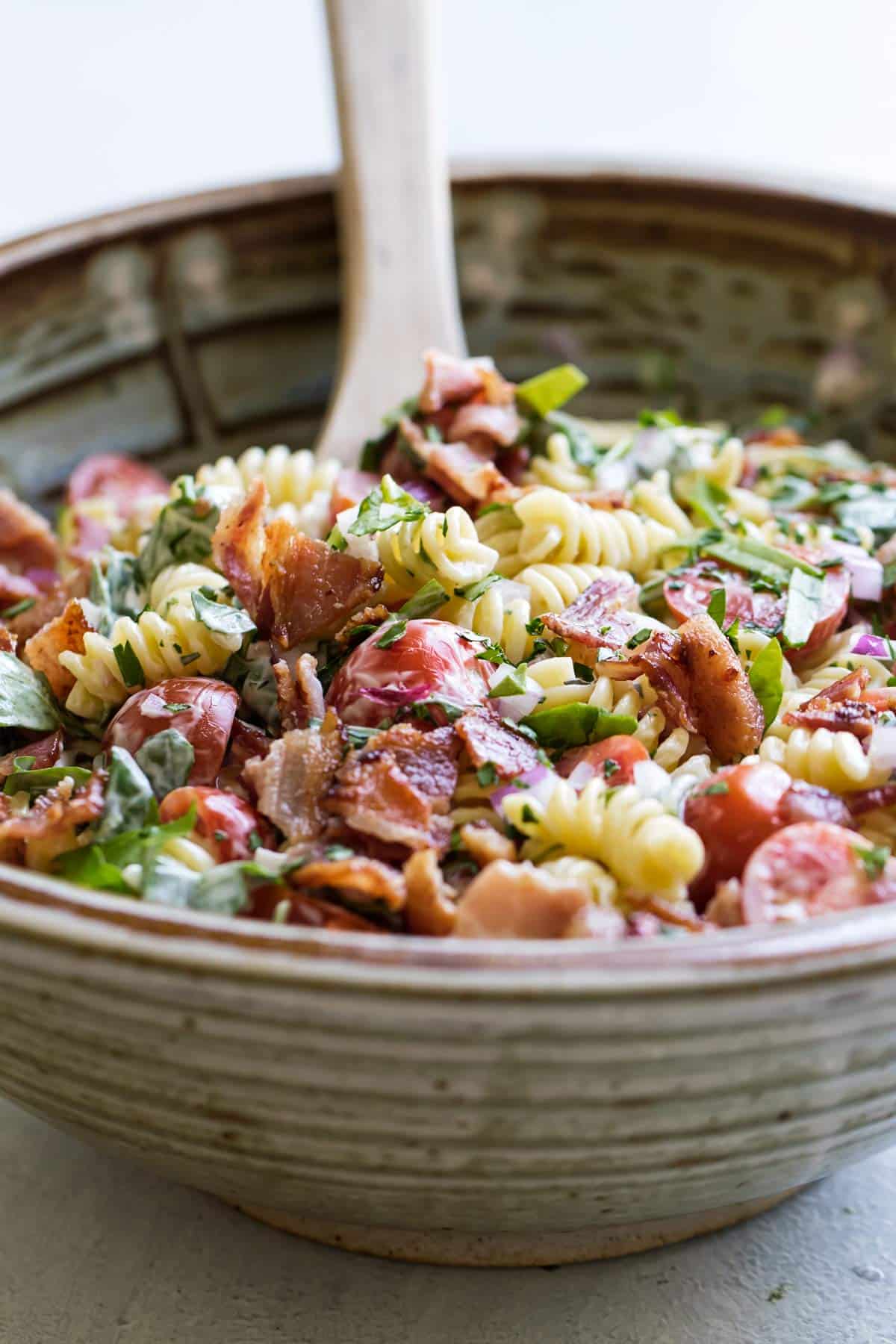 BLT Pasta Salad
A fun twist on a traditional BLT, this salad has a creamy mayo dressing, crispy bacon, and sweet cherry tomatoes.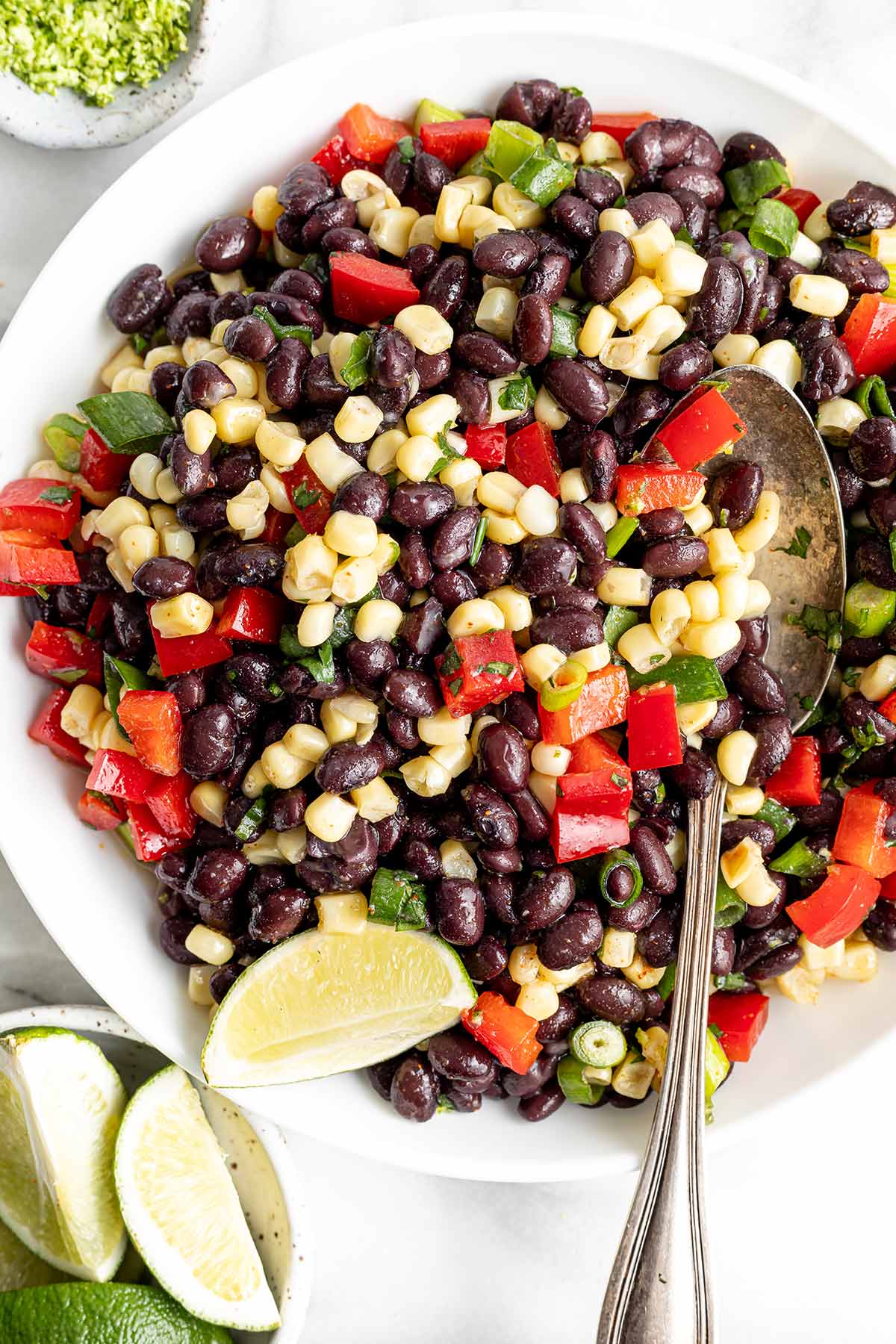 Black Bean and Corn Salad
Fast and fresh black bean and corn salad with a zippy lime dressing. This is a great summer side dish for all the potlucks, BBQs, block parties, or anytime you want a light and delicious salad.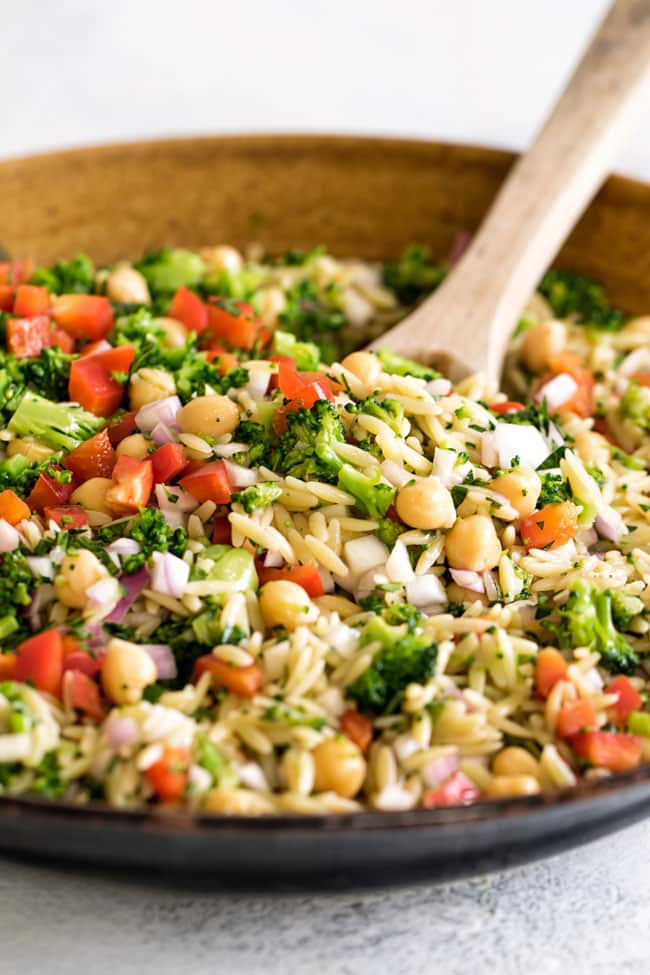 Orzo Pasta Salad
This orzo pasta salad is a light, summery side dish for BBQs and potlucks. It's full of fresh broccoli, red bell pepper, red onion, and chickpeas and is dressed with a lemony Dijon vinaigrette.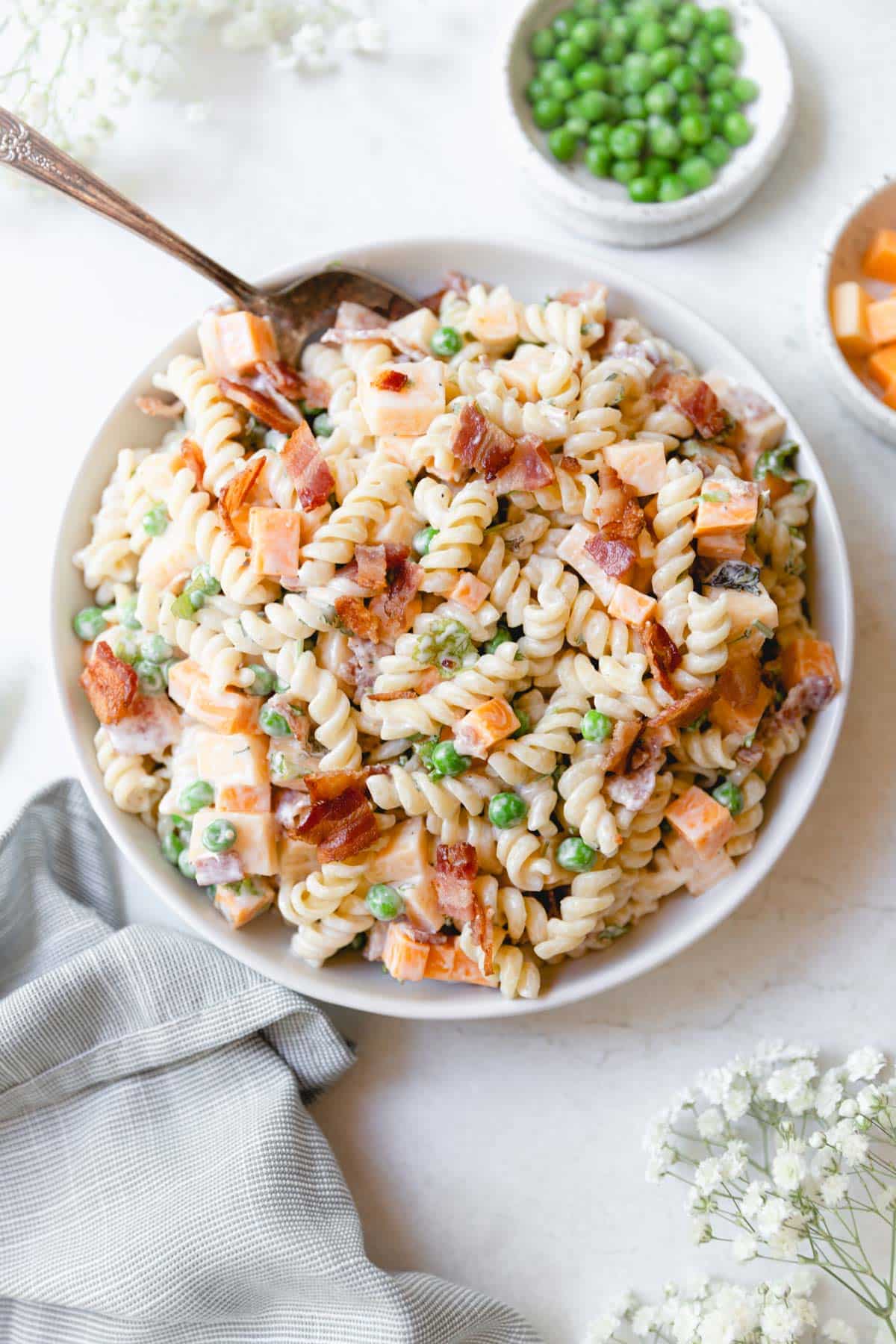 Creamy Ranch Pasta Salad
Creamy ranch pasta salad with crispy bacon, sweet green peas, and smoked cheddar cheese is a cool and creamy pasta salad recipe for summer.
Appetizers
Avocado Salsa Verde
Avocado Salsa Verde is a fresh salsa recipe with creamy avocado, tomatillos, serrano pepper, and fresh cilantro and lime juice. It's so easy you can make a batch in about 10 minutes!
Jalapeno Popper Dip (or Spread)
This jalapeno popper dip is an easy appetizer recipe. You can make it a day in advance and serve it with crackers or chips. It has all of the flavors of bacon-wrapped jalapeno wrappers but served up cold and creamy as a dip instead. 
Chipotle Black Bean Hummus
Black bean hummus with a kick of spicy, smoky chipotle peppers and topped with pico de gallo is a twist on a traditional hummus recipe. Combine everything in a food processor, blend and serve with tortilla chips, pita, vegetable sticks, or crackers for an easy appetizer or snack.
Corn Salsa
This fresh and fast corn salsa is the perfect appetizer or side dish for so many occasions. It has really simple ingredients and only takes 15 minutes to make.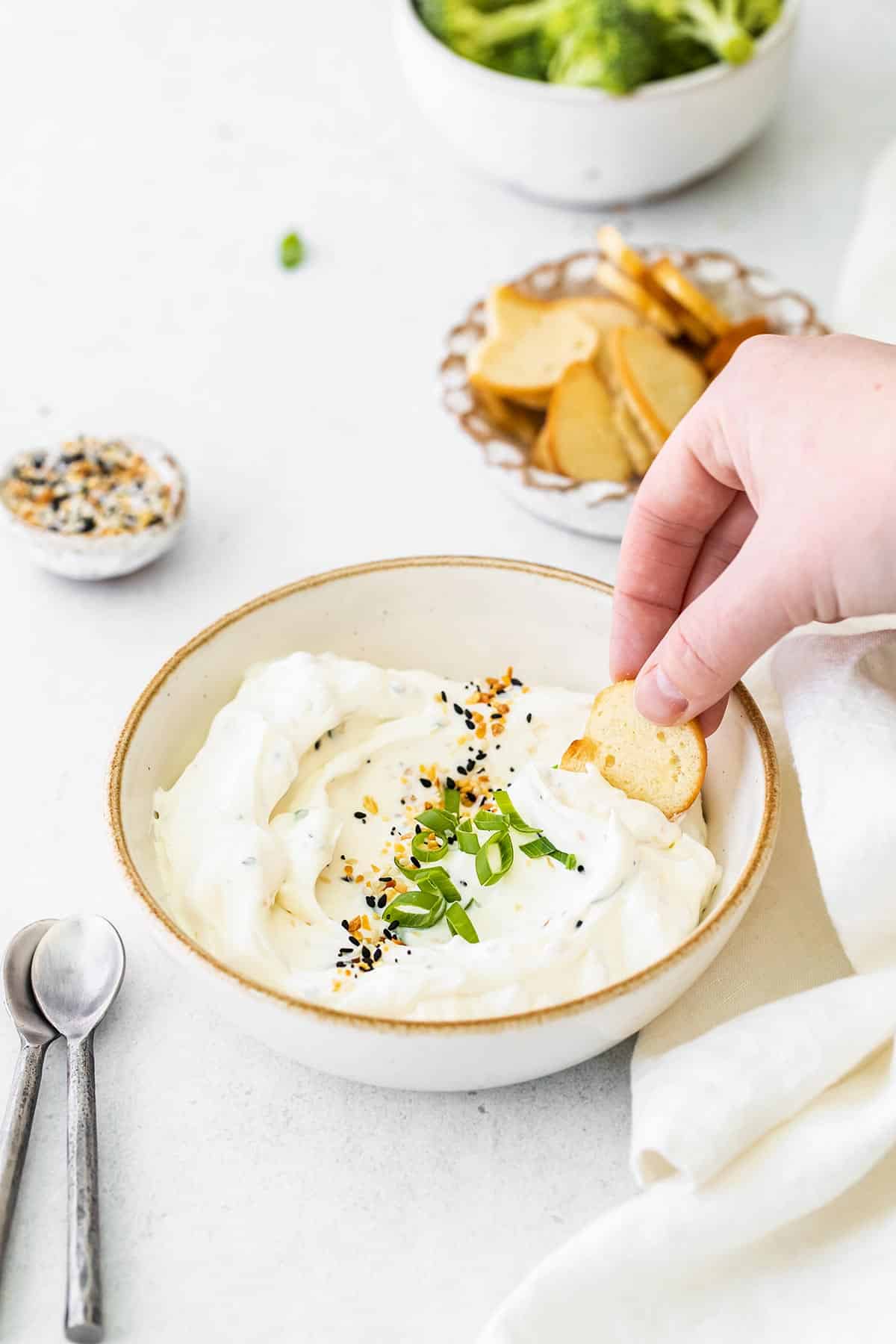 Everything Bagel Dip
You only need four ingredients to make this everything bagel dip and it takes all of ten minutes to start to finish. Everything bagel seasoning and fresh green onions flavor the creamy dip made with cream cheese and sour cream.
Cowboy Caviar Guacamole
Cowboy caviar combined with creamy guacamole is a quick and easy dip recipe loaded with fresh flavors. It has avocado, beans, corn, peppers, tomatoes, and fresh lime juice all mixed up and ready for a big bowl of tortilla chips to go with it.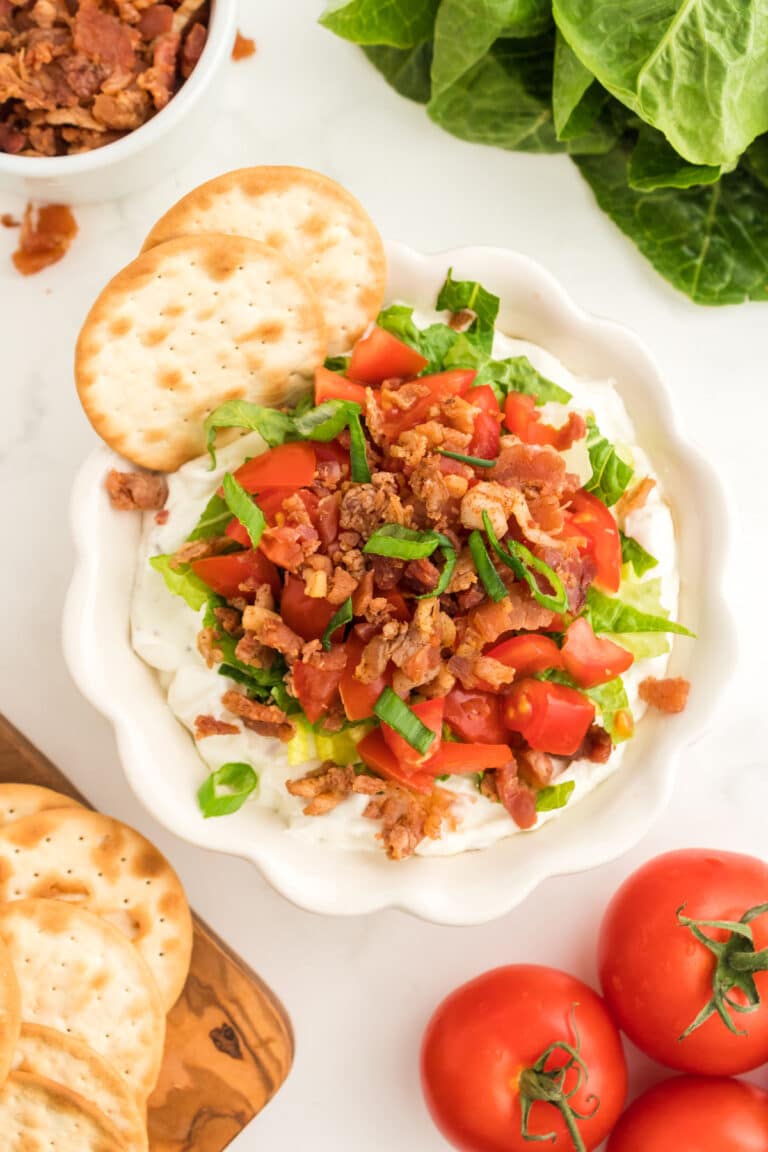 BLT Dip
This creamy BLT dip is so easy to make – it only takes about 10 minutes! It's creamy and loaded with flavors from a classic BLT sandwich but in dip form.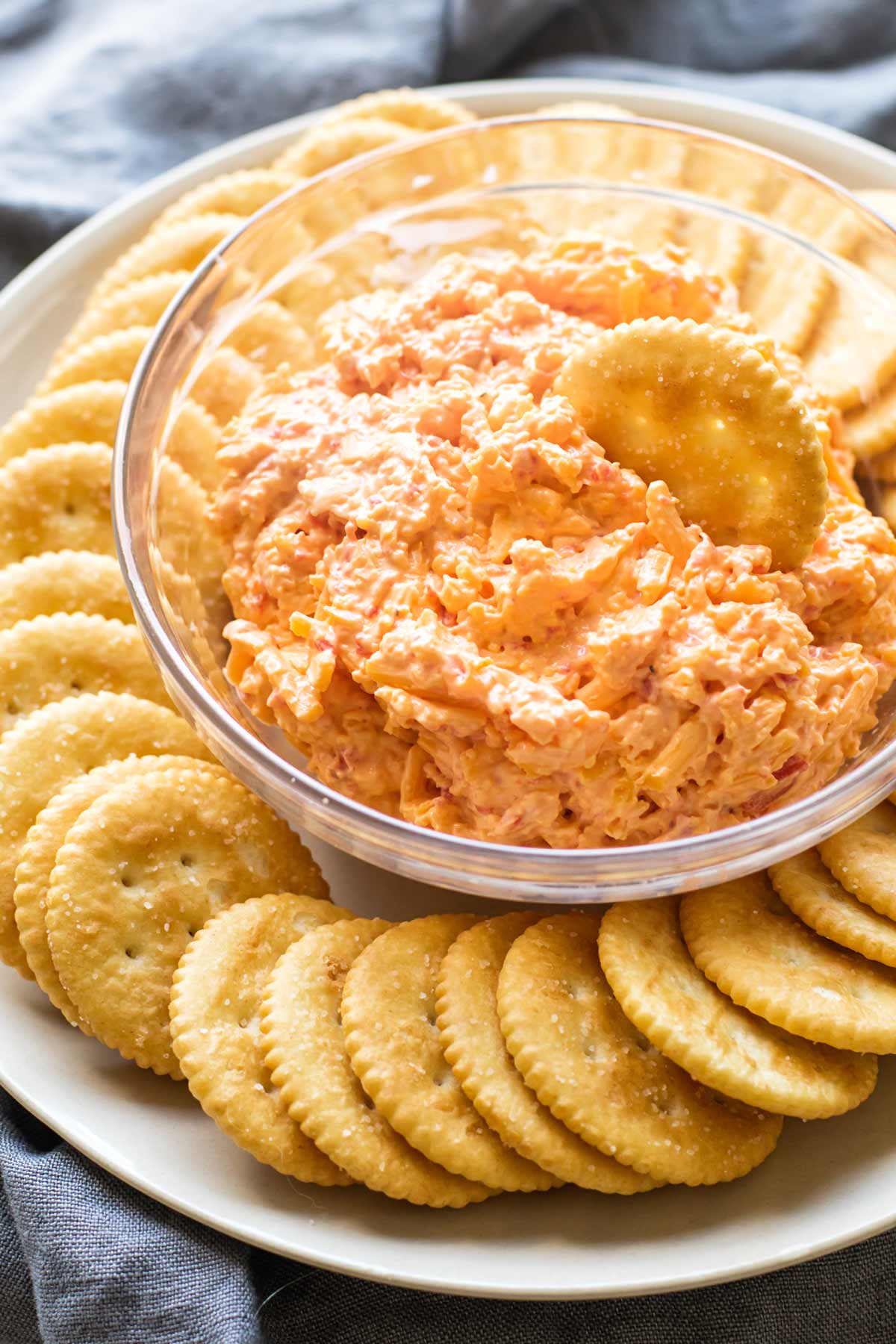 Pimento Cheese Dip
Pimento cheese is a classic Southern cheese spread made with simple ingredients that, when combined, is hard to resist. Serve it with crackers and it will disappear fast!
Easy Homemade Salsa
Homemade salsa that's not watery, not too thick, and full of fresh flavors from tomatoes, cilantro, and jalapeno. This is a cooked salsa recipe that is ready to go in less than 30 minutes. It's full of fresh flavors and so easy to make.
Roasted Red Pepper Pinwheels
These pinwheels are so simple to make and a great appetizer when you need something easy. Cream cheese, basil, and red peppers rolled up in tortillas – make them ahead for the best flavor!
Tzatziki Dip
Tzatziki is a quick and easy spread or dip that takes just minutes to make. Make it ahead so the sauce has time to chill in the fridge so all of the flavors develop. Serve it as a dip with pita and veggies for an easy appetizer.
Simple Guacamole Recipe
Irresistibly scoopable homemade guacamole! This is my go-to simple guacamole recipe – you're just four ingredients and 10 minutes away from this bowl of goodness.
Drink Recipes
Passion Fruit Iced Tea
Easy Passion Fruit Iced Tea is a quick drink recipe with just four ingredients. It's tropical and refreshing – a great summer drink!
Sparkling Vodka Lemonade
Cold and refreshing sparkling vodka lemonade is the perfect sippin' drink for a warm summer night. The soda water adds fizz plus cuts the sweetness of the lemonade for a perfectly drinkable drink. This recipe makes four large drinks and can be easily adjusted to serve more or less.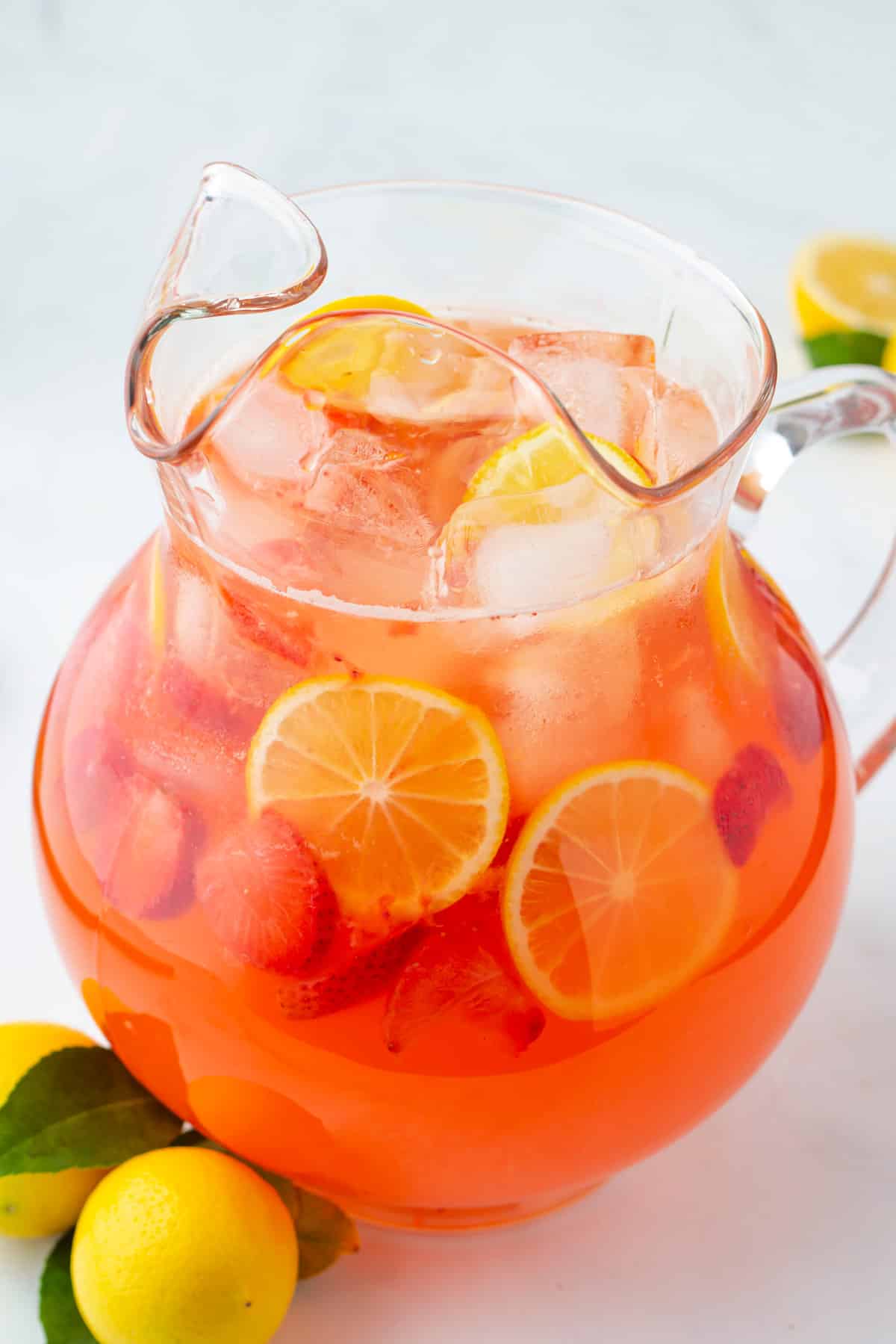 Strawberry Lemonade
Cold and refreshing strawberry lemonade made from scratch with fresh lemon juice, frozen strawberries, water, and sugar. This recipe is easy to make and easy to customize, too, with other frozen fruit like blueberries, raspberries, or peaches.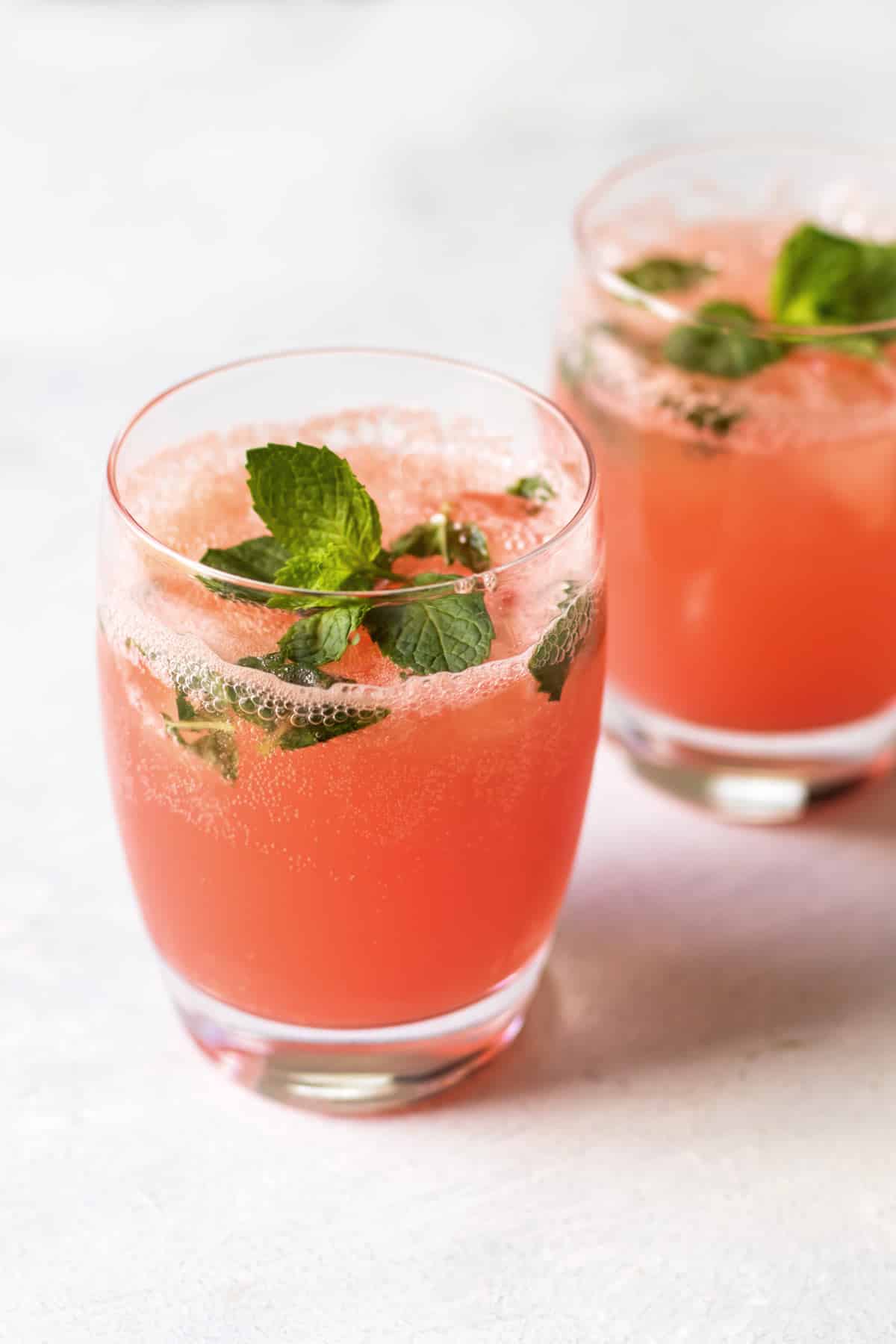 Watermelon Mojito
Cold, fizzy, and so refreshing – these watermelon mojitos are a twist on the classic Cuban drink. Made with fresh watermelon juice, rum, mint, and Iime juice it's a great drink for a warm summer night.
Pineapple Agua Fresca
A refreshing aqua fresca made with fresh pineapple, lime juice, and a touch of honey is an easy drink to make. It's light, refreshing, and perfect on a hot day.
Sparkling Berry Lemonade
Cold and fizzy lemonade made with fresh blackberries, strawberries, raspberries, and lemon juice. Perfectly sweetened and the best way to cool off when it's hot.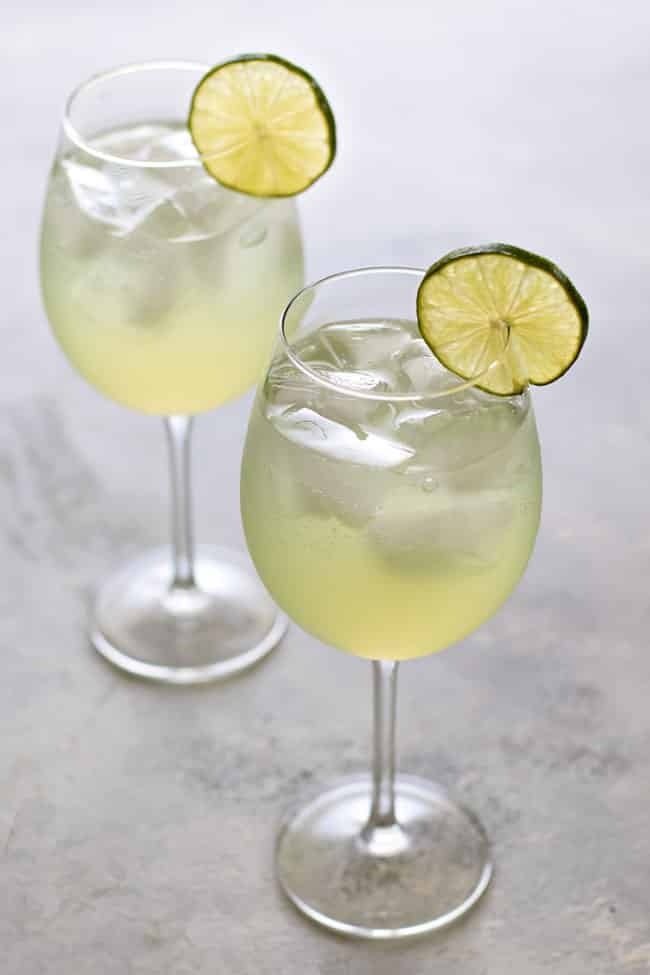 Margarita Wine Spritzer
Wine spritzers get a margarita twist! These cold and refreshing drinks are easy to make and easy to sip on, especially if it's a hot summer day.
Desserts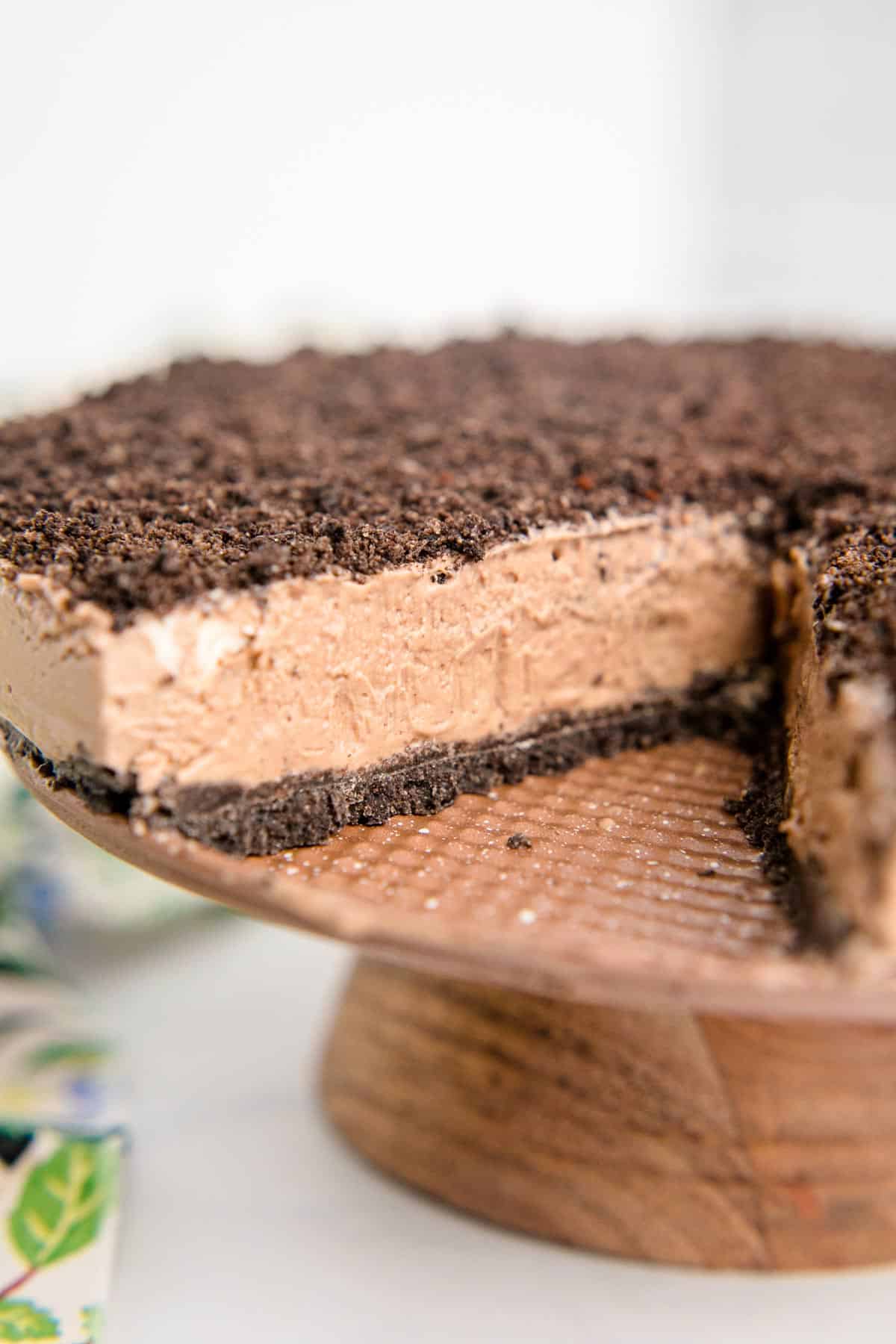 No-Bake Mocha Cheesecake
Chocolatey cold frozen cheesecake with a coffee twist! This mocha cheesecake is a no-bake dessert with a chocolate cookie crust and topping and a rich mocha cheesecake filling.
Triple Berry Crumble
This berry crumble is easy to make and a great summer dessert. Strawberries, blueberries, and blackberries topped with a golden crumble topping is delicious on its own but even better served warm with a scoop of ice cream.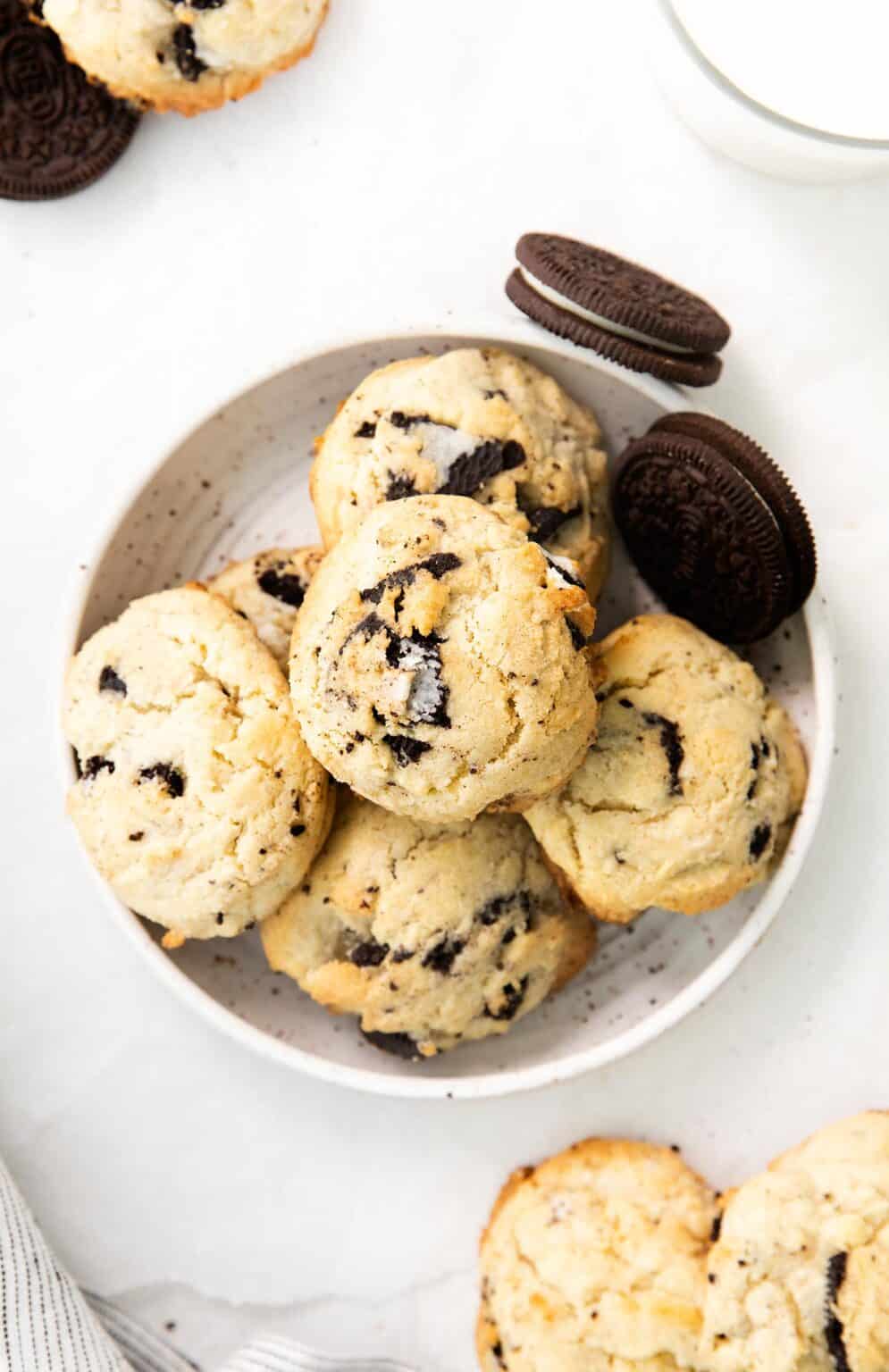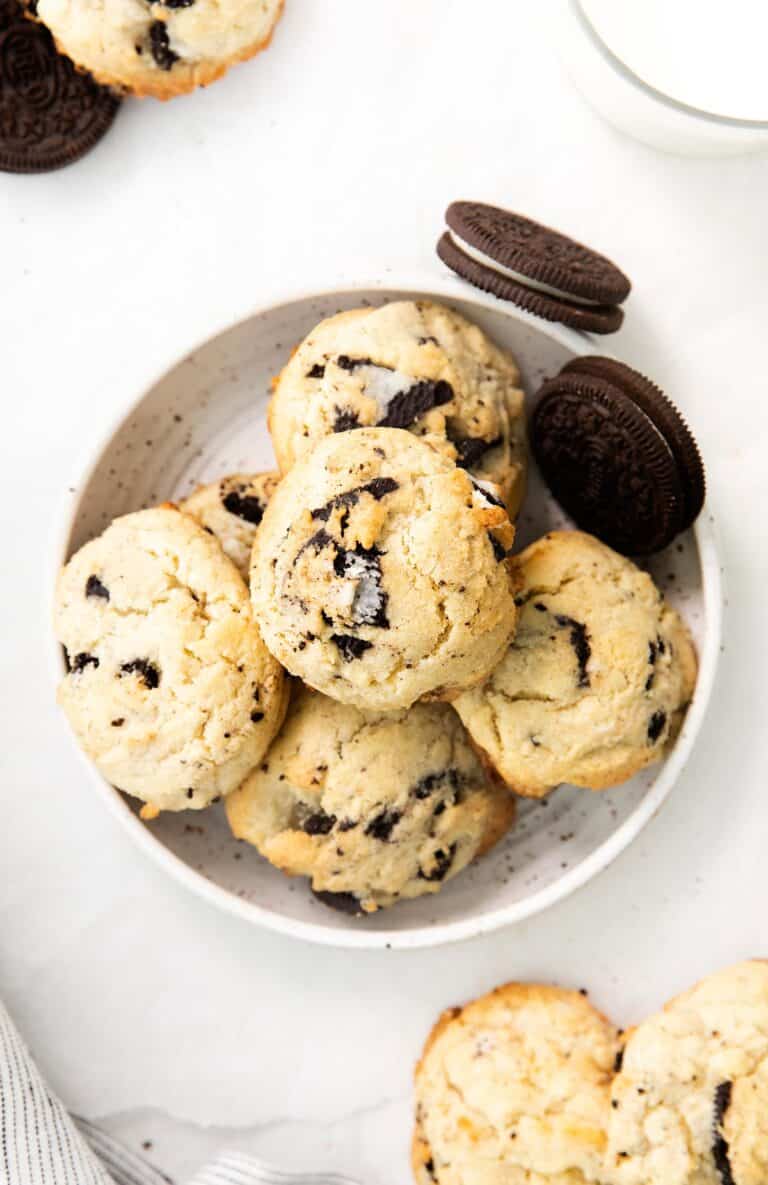 Cookies and Cream Cookies
These cookies and cream cookies have the best soft and chewy texture, with crushed Oreos in every bite. They're easy to make, plus you can freeze the cookie dough for later, so a fresh-baked batch is just minutes away.
Peanut Butter Brownies
Fudgy and rich peanut butter brownies with a layer of peanut butter filling baked inside and a swirl of it on top. If you're a fan of peanut butter cups, you will love this brownie recipe.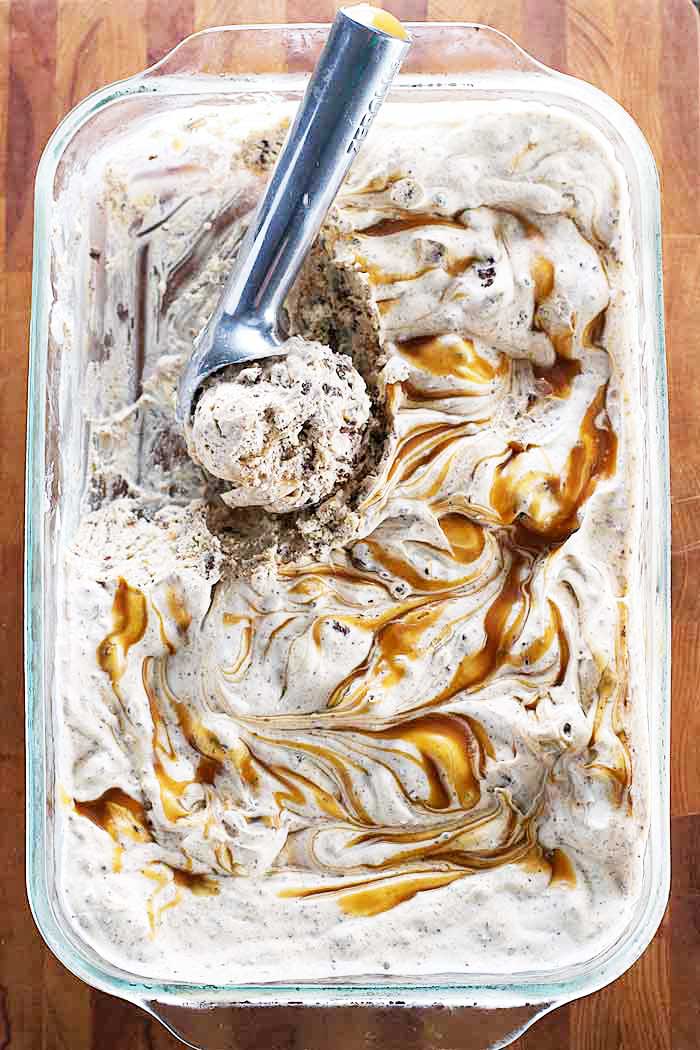 Caramel Brownie No-Churn Ice Cream
No ice cream machine? No problem! This no-churn ice cream is rich and creamy – plus, you can customize it however you like.
Blueberry Hand Pies
Using store-bought pie crust makes these hand pies so easy to make. Plus, they are freezer-friendly, which means you can make them ahead and bake them as you need them. See the recipe notes for instructions on how to freeze them.
Gourmet Chocolate Chip Cookies
This recipe produces a perfectly balanced cookie – crispy around the edges and soft and chewy in the middle with plenty of melty dark chocolate throughout. The texture, the nutty and complex flavor, and the appearance of these cookies make them a winner in my book.
I hope you've found some amazing Labor Day recipes to try!
Happy Cooking,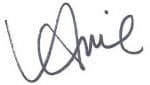 More Recipe Collections
Post updated from the archives. First published in August 2020.